It's a day that most niñas look forward to: la quinceanera.
Turning 15 is a huge milestone in the Latinx community, so this is the perfect time to go big and throw a quinceanera party your guests will never forget.
As you're shopping for quinceanera dresses, picking your corte de honor, and planning your cake design, don't forget about another important feature: a photo booth!
Photo booths are the perfect addition to any formal event. Here are five reasons why you need a photo booth at your quinceanera.
1. They're Trending Like Crazy
If you've been to any quinces, weddings, or school dances lately, you've probably jumped in a photo booth.
They're super popular right now, and for good reason. Photo booths are more than just a picture dispenser. They're a chance for all of your guests to take a break from eating, dancing, or small talk, and show their silly side!
Remember when you were a kid and everyone had a cute activity to keep the party going? Photo booths are for teens and adults what magicians and piñatas are for kids.
2. They Work With Any Theme
Having a Paris or princess-themed quince? Your photo booth doesn't have to stand out like a sore thumb.
Our booths—from the props and backdrops to the pictures and even the booth itself—can be customized to represent your unique theme.
Throwing a glamorous fiesta? One of our glitter backdrops will add a touch of sparkle to everyone's photos. Hollywood-themed night? We've got the velvet ropes and fabulous props to make each of your guests (and you!) feel like a star.
We can even wrap the outside of the photo booth in whatever image you like, so the photo booth will blend into the decor.
If you haven't seen it already, you need to check out our mirror photo booth! It's the least "photo booth looking" booth out there!
3. They're Hassle Free
With DIY photo booths (and even some companies), you're on the hook for any other issues that come up during the party.
Our rentals always come with an attendant to monitor the photo booth, help with technical issues, tidy up the prop table, and make sure the line stays orderly. Plus, we take care of set-up, breakdown, and testing the machine before the party starts.
This feature alone makes the price of a photo booth completely worth it.
Besides, this isn't just another get-together: this is a quinceañera! If you're ever going to go all-out with the most professional, most impressive, best quality photo booth possible, this is the time to do it. DIY photo booths have their place but when it comes to quinces, there's nothing like the real thing.
4. They're Awesome Party Favors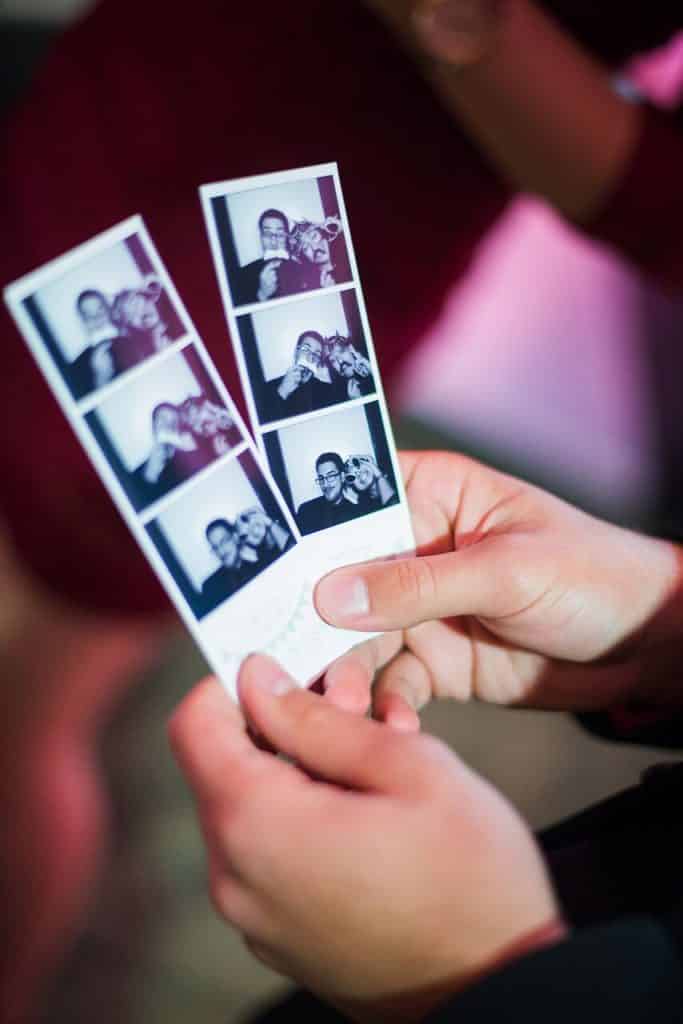 Photo booth strips are literally the best favors.
They last forever, they're impossible to throw away, everyone loves them, and your guests can take as many as they want. How many other favors can say that?
And they're not only favors for your guests; they're favors for you, too!
We print out two copies of every picture taken: one for the person taking it and one for you to keep. Your guests can slip a copy of their selfie into a guestbook along with their best wishes for your future and BOOM! You have a keepsake to remember this day forever.
And if you'd rather have video, we can do that, too! Our open air photo booths can also record video messages from your guests, so you can relive the evening over and over again.
5. They're Fun For All Ages!
No matter what event we go to, one thing is always true: everyone loves a photo booth!
You won't have to show your youngest primos or your abuela how to use it, so they'll have a blast picking out props and striking poses as much as they like.
Be silly with your friends or sweet with la familia; there are no limitations with a photo booth.
Conclusion
Your quinceanera should be just as epic as you are; photo booths make that happen! They're not just a fun activity to impress your guests, they're a hassle-free way to make sure everyone remembers your event for years to come (plus, a cool keepsake).
Don't just hire any photo booth rental company for your son or daughter's quince, pick a company with experience in formal events. Our professional team will make sure everything about your photo booth goes smoothly, from set-up to breakdown.
Contact us today for more information about availability, booth types, and how to theme and customize your rental for the ultimate party!