You would think in our social age of Snap Chat and Instagram with their digital props and filters, the nostalgic-style photo booths wouldn't even exist anymore. After all, why pay for a mugshot-style selfie when you can filter, fade, and add emojis to your pics at no charge?
And yet: the photo booth stands resilient.
The OG selfie machine—a.k.a. photo booth—has been around since 1925, when inventor Anatol Josepho debuted the first photo booth on Broadway. He had 280,000 people use it during its first 6 months! From then until the early 2000s, photo booths were all the rage, even with film photography moving to digital.
In fact, from 2005 to 2012, more people searched online for photo booth rentals than for wedding DJs! And there's no sign of the hype letting up anytime soon.
Here's why it looks like the photo booth is here to stay.
The Experience
Even though you can snap a photo from almost any device, there is still a call for more of an experience.
It really doesn't matter if you're young or old, photo booths can bring back memories and help make new ones. There's a playful type of joy that happens when you are trying to choose a prop to fit your personality, fit your friends or family in the frame, and choose the poses that show off your silly side.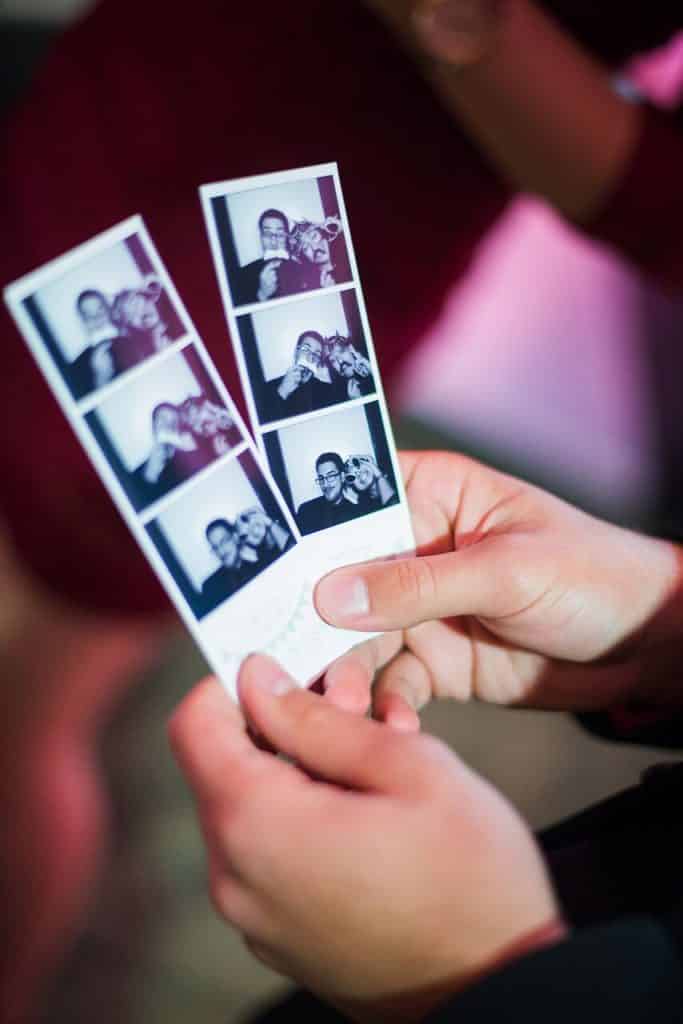 The Keepsake
We are a society of instant gratification. So being able to get a text of your image and post it online is amazing, yes. But what happens after 6 months or a year from now? The only time you'll see that photo is MAYBE on your Timehop or Facebook Memories.
Or what happens when your phone runs out of storage? Most likely, it will get deleted or moved onto your laptop hard drive where it will sit, forgotten, for the next decade.
There is real value in the actual keepsake of a photo booth print-out. As I've always said, photo strips are like dollar bills…they're impossible to throw away. (I still have one that I took with my best friend at the mall when I was 15.)
Photo Booth Features + Technology
Photo booths have evolved from Mr. Josepho's original machine. They aren't just a box where an attendant takes a photo of you anymore! They now provide even more value and entertainment.
With some companies, like Photobooth Rocks, we'll include props for guests to use as well as an attendant to encourage the fun! The actual print-outs can be customized to the event, whether it's a wedding, bar mitzvah, or company marketing event.
But let's take it up a notch. Not only can you take photos, but you can also record video messages in some of our photo booths. And with the right wedding package, you can get a scrapbook so that you end up with a photo booth guest book by the end of the night. Top it off with being able to text your image or save it on a USB to use for the future.
Conclusion
Photo booths now come in all shapes and sizes, from iPads on stands to the traditional style booths to a standing interactive mirror.
Photobooth Rocks has over multiple styles of photo booths, including open air, a mirror photo booth, and one that takes 360° video.
Life is about moments, don't wait for them, create them and keep them.