Everyone LOVES a reason to celebrate, but for some occasions, you need more than ordinary.
Enter: the Vogue Photo Booth.
For a truly dazzling event, every detail needs to be next-level extraordinary–including your entertainment. Think beyond the typical photo booth experience with our Vogue Photo Booth with luminous light tunnel photo activation.
With an ultra sleek design that is sure to turn heads, this backdrop will make every guest feel like a celebrity.
Yes. Your Event Can Look As Cool As A Late 90's Music Video!
For your high-end gala, ultra chic wedding, or corporate mega bash, our Vogue Photo Booth with its luminous light tunnel is the missing piece that is sure to tie your event together.
Pair with our Open Air Photo Booth to make your own "music video" or our Digital Booth for GIFs, Boomerangs, and more. As always, you'll have access to your very own Photobooth Rocks! attendant for an exclusive concierge experience.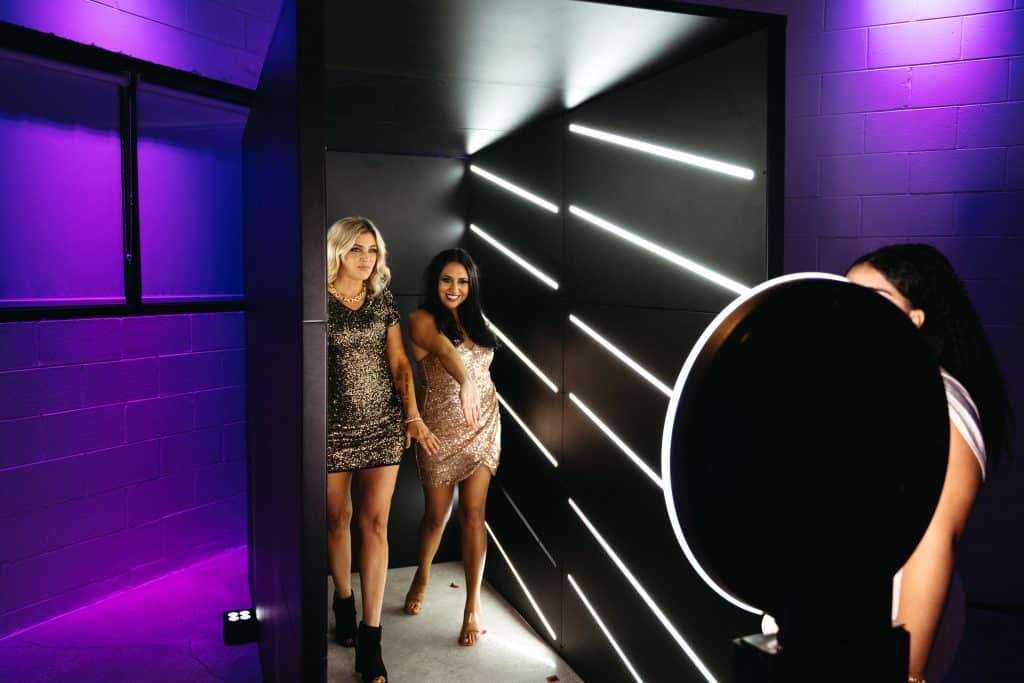 No illusions here! 
Say goodbye to vinyl backdrops with printed scenes and step inside our Vogue Photo Booth for a truly immersive experience. The booth is 8.5-feet tall and the all-black, 22-feet deep and 10-feet wide interior is lit with stripes of fluorescent LED lights that creates a sleek, glamorous setting for every photo.
Create epic, shareable photos, GIFs, boomerangs, and video clips. Your guests will line up again and again to get the feeling that they are in a music video or at a Met Gala after party.
If you're looking for a more elevated experience than funny hats and fake mustaches, this is where the Vogue Light Tunnel truly shines!
Photo booths are fun, but its the end result that generates excitement and creates an experience that event-goers can FEEL. Think outside the photo booth and into an immersive photo experience, with a flashy light tunnel like you've never seen before. Head over to our
Contact Page
to let us know when and where your event is, and we'll get the ball rolling. When your event rolls around, we've got everything covered from the setup to booth maintenance before and throughout your event.
What We Can Do
Check Out the Fun We Bring
What They're Saying About Photo Booth Rocks
We used Photobooth Rocks for our wedding and it was such a great addition! Not only was the booth attractive and inviting, but the staff made guests even more excited to join in on the fun. Love them!
This company has a great selection photobooth and backdrops. Love how you can add details of your event on the photos. The staff is attentive and friendly.
We have had Our Photo Booth Rocks at several of our events and love them! Professional staff, excellent set up and props with beautiful backdrops. Would suggest having their DJ and photo booth for every event!
Last chance! (on this page, at least)