Do A Little Dance
Make a Few Memories!
Number 1. Orlando Photo Booth Rental
Capture the Moment + Celebrate Life
Life moves fast, doesn't it? We get caught up in routines and before we know it, the good times with family, friends or co-workers have turned into memories—hopefully memories worthy of sticking on your fridge or in a frame on your desk!
Hello! We are Photobooth Rocks! Your loyal partner in creating and capturing memories. We have a love for life and our team loves those unexpected, real moments that make your event truly special. We love feeling like we're part of making that all happen, so we are all in with genuine smiles and shared laughter.
Our mission is simple: to help you curate, create, and capture every noteworthy moment. With the highest quality images and videos, we're dedicated to preserving every smile, every laugh, and every interaction. We're committed to be as excited and passionate about your event as you are!
Real talk: printed photographs are like dollar bills, it's impossible to throw them away.
Whether you want to capture a moment at a wedding, celebrate at a birthday, or you want to drive brand awareness and sales at your next potential client event, Photobooth Rocks is here to make sure no smile goes unremembered and no laughter goes unshared.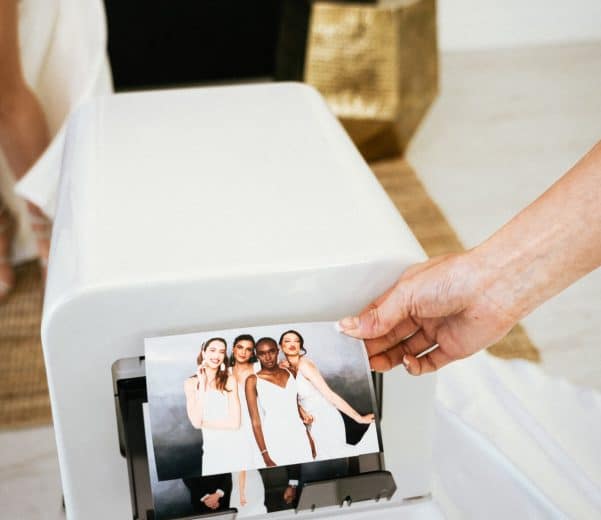 Life's best moments deserve to be remembered.
Let's chat about how Photobooth Rocks can be part of your next event and help you keep those memories alive.
Check Out Our Most Requested Photo Booths
Perfect for Weddings, Corporate Parties and Trade Show, Formals, and Social Events
now hiring photo booth rockstars!
Smile + Share Every Moment
Smile: You've got enough on your plate. All we need you to do is let the world stay outside for a bit, and just smile while you create moments with friends, family or co-workers in the photo booth.
Don't Miss A Thing: With Photobooth Rocks, you won't miss a single moment! Our Photobooth Concierge will encourage guests to make memories and we'll capture every second of your special event with our various photo booth rentals and add-ons!
Share Your Pictures, Video, GIFS, Boomerangs: Life is all about creating moments! So let's create them in a photo booth, so you can share those moments in every form—with a print out, boomerang, video, GIF, or even a custom webpage.
Say It With Video: We're so much more than photos these days. Check out our new booths with video messaging capability and more!
Choose Your Photo Booth Rental Experience

Let's Create Moments
Give your guests an experience off the dance floor. Capture the memories, and celebrate the milestone.
After the confetti has landed, the dessert's been enjoyed, and your phone storage is full, you'll still have these memories that can't be erased.
Video messaging capabilities
2x6 or 4x6 Printing Available 
Backdrop Options
Black and White Filtered Photos
High Quality + Celebrity Style Motif
Unique Lux Experience
360° video in high-definition
Social sharing capabilities
Variable speed options
The Photo Booth Rocks Experience
At Photobooth Rocks, we're all about helping you create exhilarating moments and capture the memories that matter. 
No matter what kind of party you're throwing—wedding, prom, graduation, baby shower, and more—we can help you capture every second of the fun! Our photo booths are sleek, easy to use, and have a small footprint so they can fit into any space. Plus, tell you guests to visit as many times as they want! We'll help you select all the props you need and even help you create custom props or a custom backdrop to make the event truly your own. 
If you're looking to show off your company at the next big trade show, we've got you covered. The 360 Photo Booth, Vogue Photo Booth, and more of our state-of-the-art photo booths will catch everyone's eye. And don't forget a customizable green screen backdrop!
Whenever you book with Photo Booth Rocks, you can guarantee we'll take your event to the next level because we know how to party! 
All of our photo booth styles include unlimited lab-quality prints, props, an attendant, choice of backdrop, video messaging capabilities, and more!
4 hr Rental
Scrapbook for you
Photo strip frames for guests
4 hr Rental
Scrapbook for you
Photo strip frames for guests
Velvet Rope VIP experience 
Custom props
4 hr Rental
Scrapbook for you
Photo strip frames for guests
DJ/MC to rock your event
Literally. Our team will be there for you from start to finish for your photo booth rental, from the moment you book your booth until the end of your event!
With thousands and thousands of parties under our belts, we'll get everything ready for you in no time at all so you can party!
From our transparent pricing and quote system, to our customer service, we are about making your day amazing. Period.
Are you still searching for that missing piece to make your wedding/event unique…? Well look no further, you have found it in Photo Booth Rocks! Not only do they offer a wide variety of Photo Booths to choose from, they also offer the new and amazing Mirror Photo Booth, which is our personal favorite at Bella Collina. These amazing additions, to your wedding/event, will keep your guests entertained for ages from choosing the right prop or ernoji to leaving you the perfect video message. You will not be disappointed with the hilarity that ensues from capturing the perfect moments to working with the wonderful team at Photo Booth Rocks.
See what everybody is talking about!