Starting a new chapter in your life calls for a BIG celebration, and if there's one thing we know how to do at Photobooth Rocks, it's celebrate!
Whether you're graduating from high school or college, this is the time to create some amazing memories with the friends and family who have gotten you this far. And what better way to capture those memories than a graduation photo booth rental?
School hosted graduation parties, after-graduation parties, private graduation parties—they all call for a killer photo booth!
For Gen Z, it's common to take (and delete) 100 selfies in an afternoon, but your parents will tell you there's nothing like having a tangible photo of your loved ones.
At Photobooth Rocks, our mission is to help you capture as many of those memories as possible—while also making sure you have an absolute blast!
Ready to rock your next event?
Graduation Photo Booth Rental
Forget the clunky models from the '80s! Nowadays, photo booths are sleek little numbers that can fit in any venue. No matter your vibe, theme, or budget, we have a photo booth that will take your graduation party to a whole new level.
Our fun, modern photo booths come with all the features you love, but reimagined for a new generation. Take IG-ready digital selfies with our Digital Photo Booth. Let the smoothing filter on our Glam Photo Booth give you an instant glow up. Or, record inside jokes and touching memories with our Video Photo Booth.
And if you're looking for a photo booth that will really wow your guests, check out the 360 Photo Booth and Light Tunnel/Vogue Photo Booth.
With a wide range of photo booth styles to choose from—and nearly endless customization options—you'll have the time of your life!
There's a lot that goes into planning a graduation party. Let Photobooth Rocks take something off your to-do list!
When you book a graduation photo booth rental with Photobooth Rocks, you're not just getting a selfie station, you're getting the total package:
Modern photo booth
Professional attendant*
Selection of props
Unlimited visits
Add-ons available (scrapbook, uplighting, DJ, and more!)
Licensed and insured
A graduation party is a huge rite of passage, so we know how important it is to capture these memories. That's why (with the exception of our digital-only booths) all of our photo booths print out two copies of each photo, one for your guests and one for you!
*Not included in every photo booth rental.
There are many types of event entertainment, but few of them are as universally loved as a photo booth!
Over the years, we've hosted a ton of events of every type and size. So you can trust us when we say that guests of all ages—from 2 to 102—love hopping into the booth with a silly hat, boa, or the classic mustache on a stick.
Most graduation parties include as many aunts, uncles, and cousins as they do friends. Why not choose something that everyone will enjoy?
Skip the cheesy party games! With a graduation photo booth rental, you'll be showing your guests that you take fun seriously.
Whether you're the guest of honor or the parent of the graduate, it's important to capture these important memories before the next stage of life begins.
Technology may have changed over the years, but photos and video remain the best way to remember the people in our lives who have meant so much to us.
When you book a graduation photo booth rental with Photobooth Rocks, you won't just be ensuring that all your guests have a great time, you'll be providing your graduate with memories that will last a lifetime.
Our modern photo booths are capable of both digital and physical photos, boomerangs, video messaging, slow motion 360 video, and more!
Events should be FUN, which is why we'll never add to your stress by creating extra work for you! Having a photo booth at your next corporate events is as easy as 1-2-3!
We also are an approved vendor for most Orlando venues, including Orange County Convention Center, Loews Hotel, Universal and Disney properties, and carry the required amount of insurance.
You've earned it! And so have your associates and your team! Let's add memories to your next event and we can even extend those memories with hourly and multi-day rentals and discounts. Our photo booth operations team will work with you on package options, printout customization, and branding, and provide an attendant during your entire rental period.
There is a reason we are Orlando's #1 photo booth rental company for corporate events and tradeshows. Contact us to find out why!
Need a little extra something for your event?
Look out, Hollywood! We've brought this movie-making tech into the event space to help you create a truly immersive experience.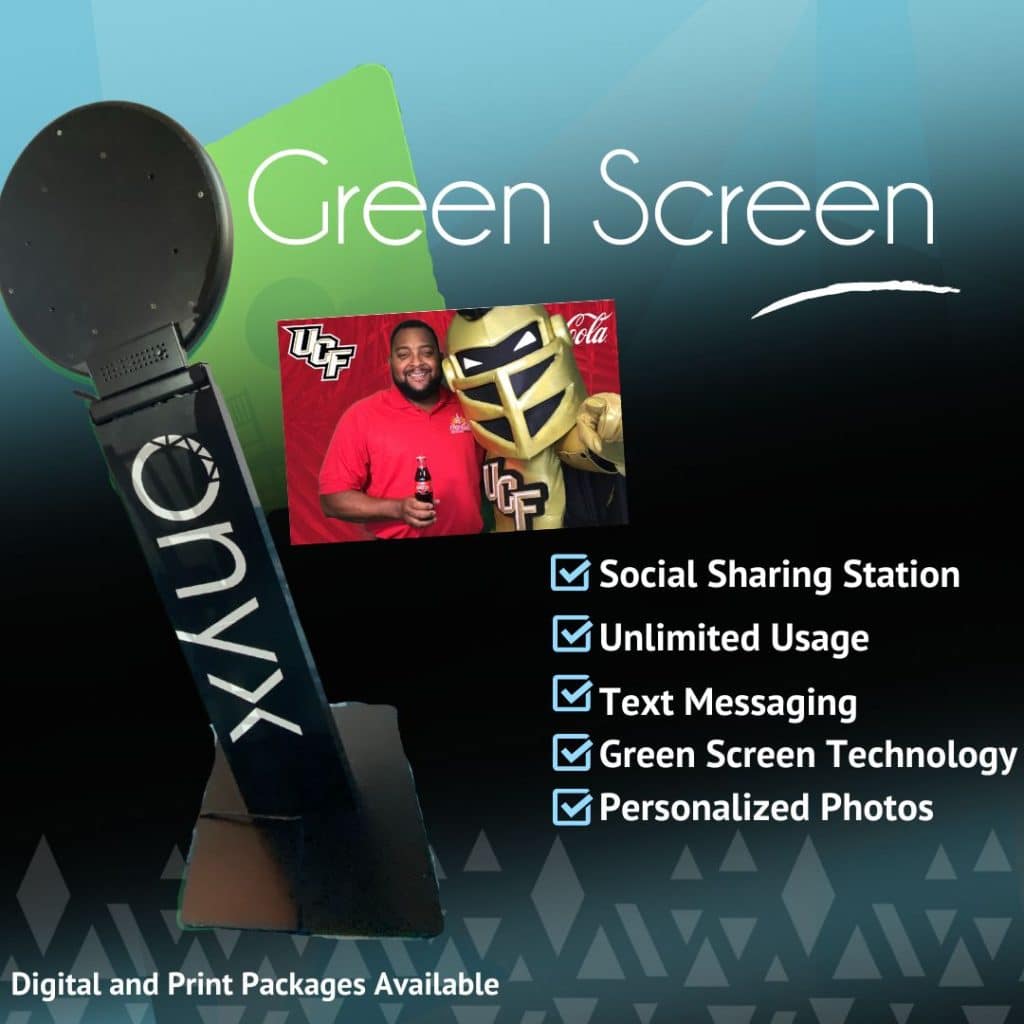 The world (literally!) revolves around you with our 360 photo booth. Featuring a plethora of awesome features, this is one experience you can't miss!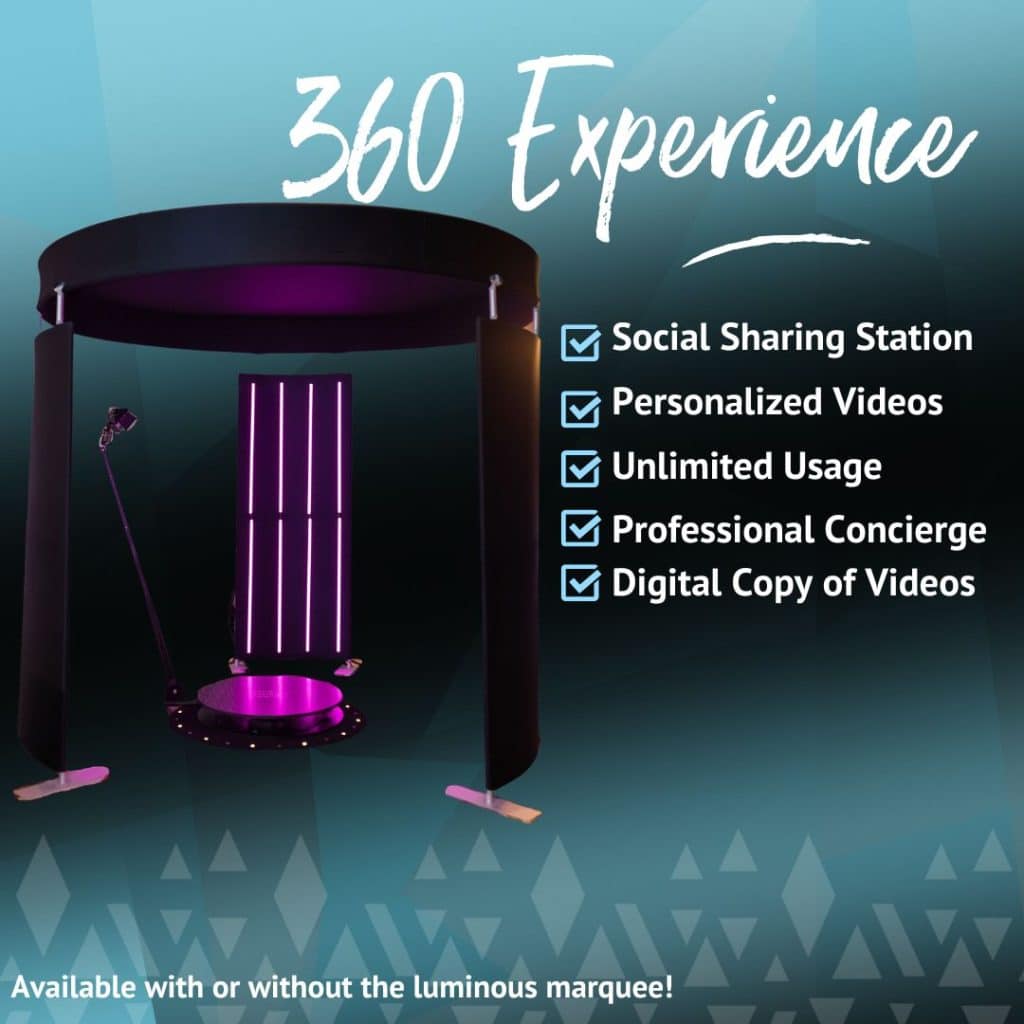 Make every guest feel like a VIP! Sleek, chic, and always unique, the Vogue Photo Booth is the ultimate choice for high-end events.