Homecoming Memories That Last Forever
Homecoming, winter formals, and other school dances are more than just a dress rehearsal for prom. They're a chance to make amazing memories of some of the best times of your life.
At Photobooth Rocks!, we specialize in capturing the laughs, smiles, and friendship in a way you will never forget.
In addition to state-of-the-art photo booths packed with incredible features, we also offer all of the fun extras that make your homecoming photo booth rental a one-of-a-kind experience.
Capture the squad in a photo, GIF, or slow-motion video for an effect they've never seen before. We can also match any school dance theme with a wide selection of props or our green screen technology.
What's more? We make your homecoming photo booth rental easy with an included concierge.
Ready to rock your next event?
Homecoming Photo Booth Rental
Photo booths have come a long way, baby!
Whether you're looking for a sleek, modern version of the classic booth you know and love or you want to knock their socks off with a hot new feature, we have the booth for you.
Looking for a classy black-and-white vibe? Our Glam photo booth allows you to feel like a celebrity.
Gen Z loves emojis, so who wouldn't want to add them to their photo? With our Mirror photo booth, they can customize their selfies to their hearts' content.
Ready to kick things up a notch? Our Vogue photo booth background is an elegant addition to any school dance! Or, capture your homecoming look from every angle in our 360 photo booth.
And don't miss our brand new Video photo booth that can match any theme and fit up to eight guests at a time!
With so many homecoming photo booth rental options, it can be hard to choose a favorite!
Anything You Want…We Got It
At Photobooth Rocks!, we've thought of everything, so you don't have to.
Each of our photo booth rentals come with the following:
A selection of props
Unlimited booth visits
Professional attendant*
Standard backdrop*
Add-ons available (scrapbook, uplighting, DJ, and more!)
Licensed and insured
* Not included in every photo booth rental.
If there's one thing we know how to do, it's party!
Homecoming is more than just a school dance; it's a way to kick off the school year and start making memories to cherish for a lifetime.
And what better way to have fun and create memories than a photo booth?!
We've hosted thousands of events—from school dances to weddings—and there's one thing that's true across all generations and age groups. Everyone LOVES a photo booth!
But at Photobooth Rocks!, we take the fun one step further by offering fun extras to enhance the experience. No matter your event's theme, we can customize props that practically beg for interaction. We can also add a velvet rope, neon sign, or custom wrap your booth to make it stand out even more!
Tell the World That I'm Coming Home!
Why should prom night get all the glory?
At Photobooth Rocks!, we believe that every major event deserves to be celebrated in a big way.
When your students see a homecoming photo booth rental at the next school dance, they'll know they're in for an amazing year! Contact us today to learn more about our package options.
Events should be FUN, which is why we'll never add to your stress by creating extra work for you!
Having a photo booth at homecoming is as easy as 1-2-3!
We also are an approved vendor for most Orlando venues, including Orange County Convention Center, Loews Hotel, Universal and Disney properties, and carry the required amount of insurance.
Your students deserve to celebrate the completion of another school year! And if you need to make some extra memories, we can extend your rental with hourly and multi-day rentals and discounts. Our photo booth operations team will work with you on package options, printout customization, and branding, and provide an attendant during your entire rental period.
There is a reason we are Orlando's #1 photo booth rental company. Contact us to find out why!
Need a little extra something for your event?
Look out, Hollywood! We've brought this movie-making tech into the event space to help you create a truly immersive experience.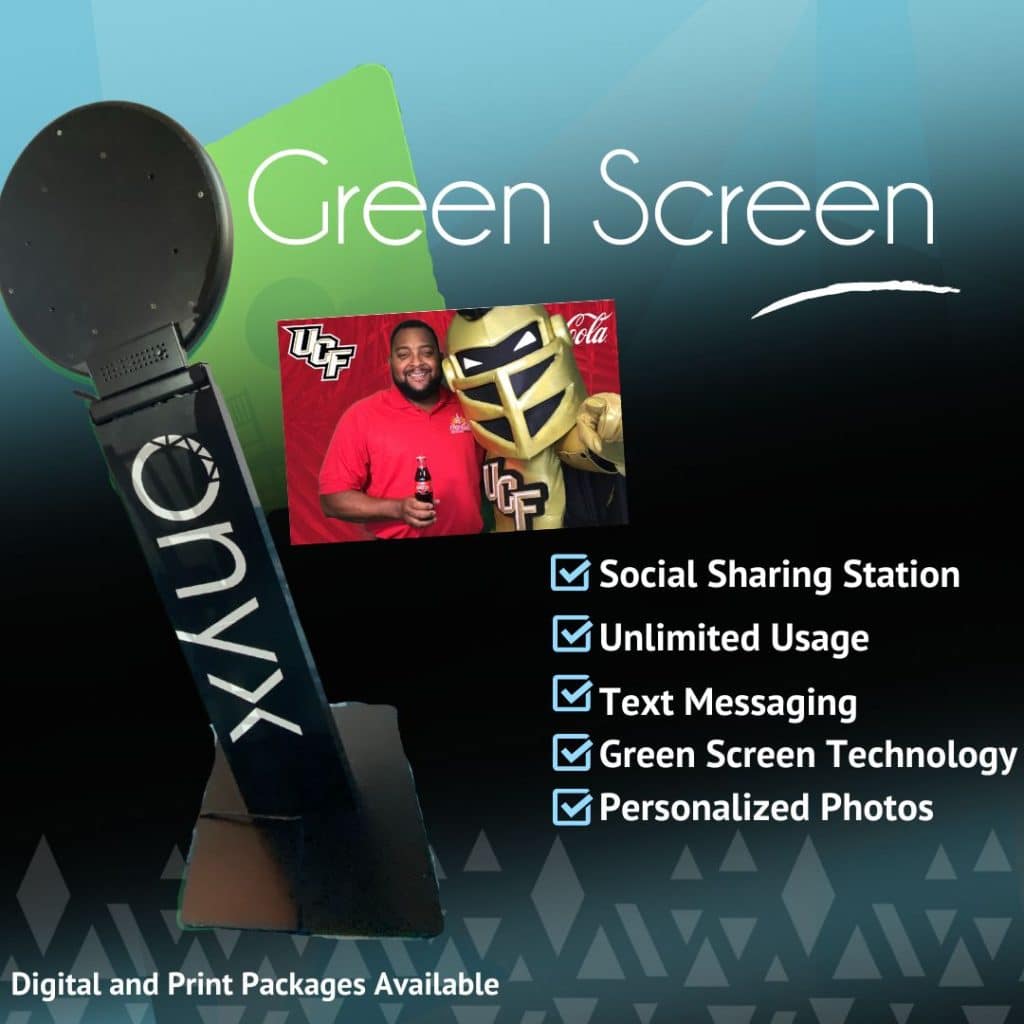 The world (literally!) revolves around you with our 360 photo booth. Featuring a plethora of awesome features, this is one experience you can't miss!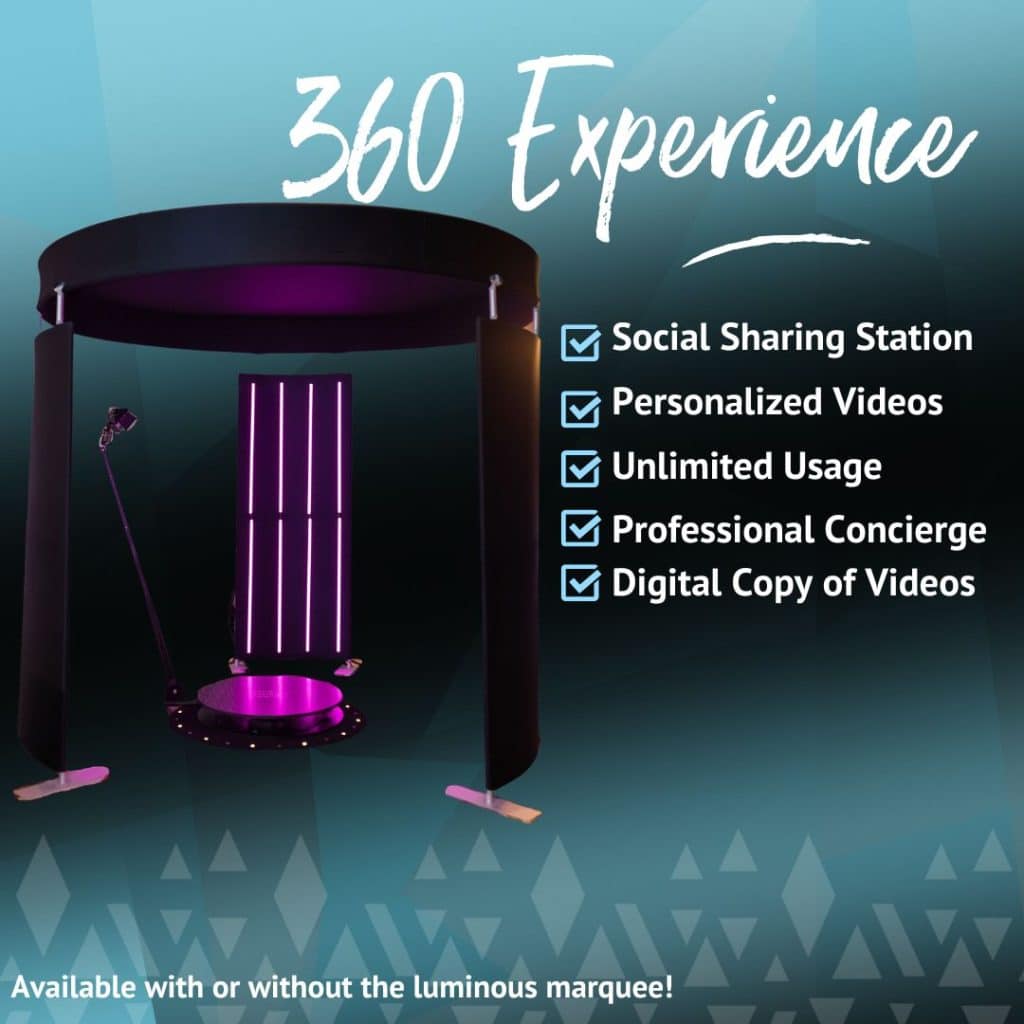 Make every guest feel like a VIP! Sleek, chic, and always unique, the Vogue Photo Booth is the ultimate choice for high-end events.