An Experience Worth Investing In
The ultimate goal of any gala or fundraiser is raising funds for a cause you're passionate about while giving your guests an experience worth investing in. 
And when you can create an experience worth sharing—that's when the awareness building and fundraising magic happens offline and in the future.
We've been part of some pretty epic fundraising events, and we know how to take your event and cause to the next level! 
No matter if you're planning a brunch soiree, a golf tournament, spa event or an evening gala, we've got a photo booth experience to compliment your fundraising goals. From the digital photo booth that can fit the whole party to our new, state-of-the-art 360 Photo Booth and Vogue Photo Booth. 
Book today and you won't be disappointed!
Ready to elevate your next fundraiser?
How to Utilize a Photo Booth at Your Fundraiser
Of course, none of these fundraising events would be complete without a photo booth!
Photo booth rentals provide a chance for attendees and donors to create snapshots of the occasion...ones they'll never throw away. Here are a few ways to use your photo booth at a fundraiser.
Sponsorships: Selling a sponsorship for the photo booth is a great way to allow your sponsors one more way to show their brand awareness and support. This can also alleviate some of the expense you might have for your event while allowing them to take home a memory.
Social Sharing; want to give your sponsorships ONE more chance of visibility? Add their logo to the social sharing photo that can be shared to them instantly. You can even add a custom website CTA for them to click on in that txt message. 
Props: Themed event? We've got the props for it! Whether you're planning an evening under the stars or a day trip to Paris, we can find the props to match. You can even design your own props that reference your cause or non-profit.
Custom Background: Want to make those photo strips really stand out? Glam up that background! Customize your photo booth backdrops to fit the theme, organization, or cause with a Green Screen. Or go with one that just looks really cool, like our glitter backdrops or the Vogue Photo Booth.
Custom Photo Strips: The great thing about photo booth pictures is that they make excellent souvenirs. Plus, your logo is right in front of your attendees long after the event. (And in the case of photo booth strips, they probably won't ever be thrown away.) Photobooth Rocks can have your logo featured on every single picture strip that gets printed out, so everyone will know who to thank for their awesome favor.
Wrap the Booth: Want the booth to stand out? Then you probably don't want the standard black or white. Instead, have us wrap the booth with whatever image you want! Your logo, a featured recipient of your charity, your sponsors, or just the reasons why your organization does what it does… we can have that all front-and-center for everyone to look at while they're waiting for their turn in the booth.
Sell Booth Tickets: We never charge individual guests for admission into the photo booth, but for a little push toward your fundraising goal, consider selling "tickets" to the booth (or a suggested donation).
Video Messaging: Some of our photo booths are equipped with video messaging, so you can collect video clips from booth attendees. Have a suggested message ("We love [Your Organization]!") and use these clips in your marketing material.
We've Got Everything You Need & More!
Planning a gala or fundraiser takes a lot of work, so let us take the stress of this experience and make it fun.
When you book a photo booth rental with Photobooth Rocks for your gala or fundraising event, you get way more than the booth itself. 
You also get:
Selection of props
Professional attendant*
Standard backdrop*
Unlimited visits to the booth
Add-ons available (customized photo strips, uplighting, DJ, and more!)
Make your gala an unforgettable night, and hit your fundraising goal with ease!
*Not included in every photo booth rental.
Let A Photo Booth Exceed Your Expectations
The goal of any fundraiser is to raise as much as possible for your cause, and the best way to do that is to ensure your guests are having a great time.
Whether you are looking for a WOW factor for your gala or a simple way to promote awareness to raise funds, let one of our photo booth options (link to our booths?)  spark your creativity!
Events should be FUN, which is why we'll never add to your stress by creating extra work for you! Having a photo booth at your next corporate events is as easy as 1-2-3!
We also are an approved vendor for most Orlando venues, including Orange County Convention Center, Loews Hotel, Universal and Disney properties, and carry the required amount of insurance.
You've earned it! And so have your associates and your team! Let's add memories to your next event and we can even extend those memories with hourly and multi-day rentals and discounts. Our photo booth operations team will work with you on package options, printout customization, and branding, and provide an attendant during your entire rental period.
There is a reason we are Orlando's #1 photo booth rental company for corporate events and tradeshows. Contact us to find out why!
Need a little extra something for your event?
Look out, Hollywood! We've brought this movie-making tech into the event space to help you create a truly immersive experience.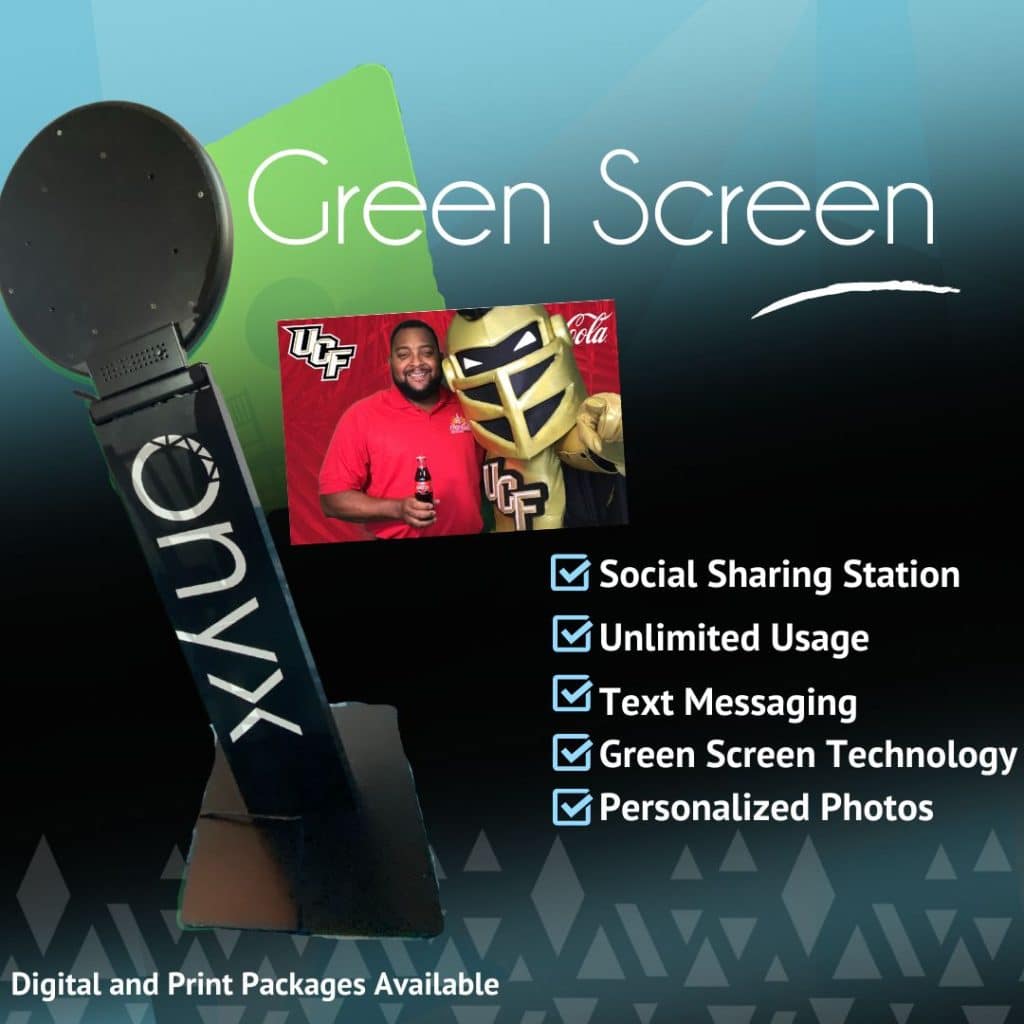 The world (literally!) revolves around you with our 360 photo booth. Featuring a plethora of awesome features, this is one experience you can't miss!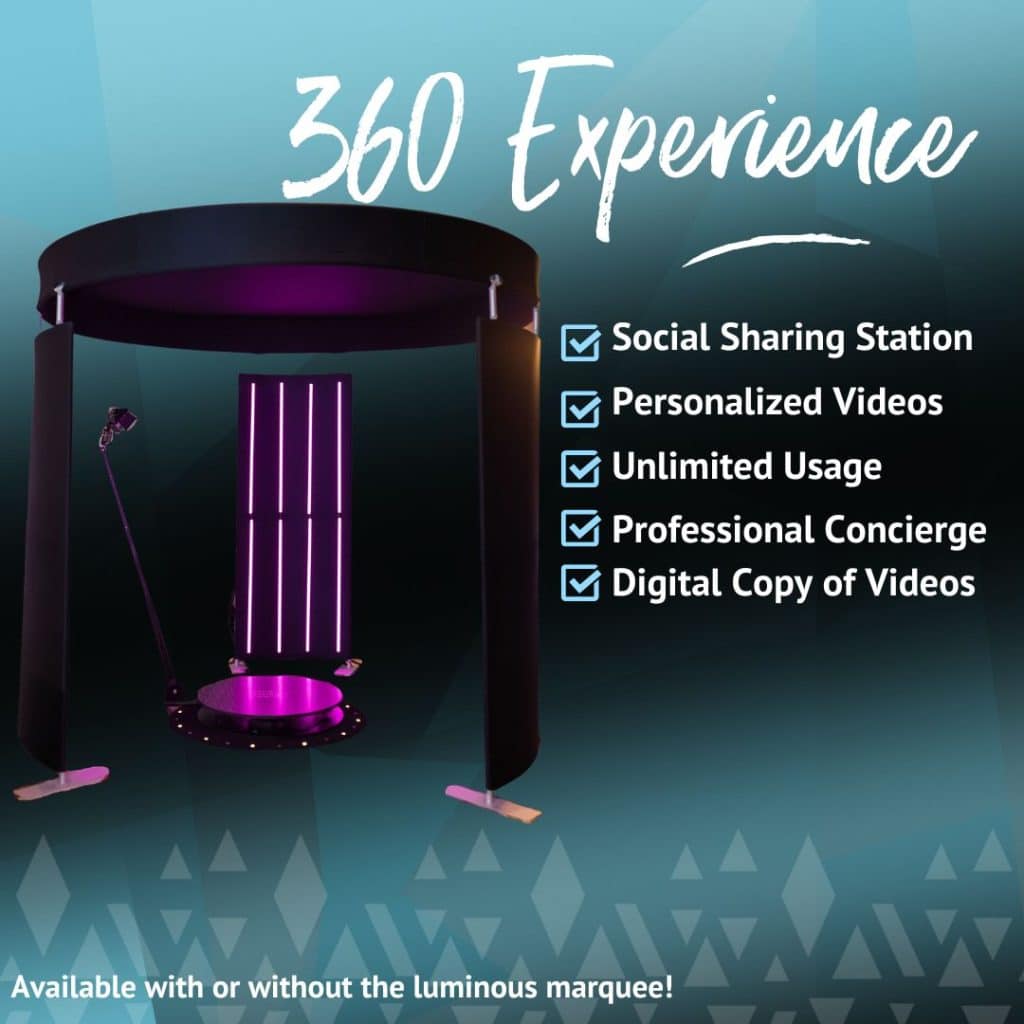 Make every guest feel like a VIP! Sleek, chic, and always unique, the Vogue Photo Booth is the ultimate choice for high-end events.