From your first birthday party to your wedding day, there's no better way to celebrate life's memorable moments than an unforgettable party with those you love most.
Yet we often spend so much time dreaming up ways to keep guests entertained, that we miss the whole point of special events—capturing memories!
At Photobooth Rocks, we do more than help you plan a fun event. We create an ultra-customized experience for memories that last a lifetime.
Not only do we have a booth, backdrop, and prop for just about every occasion, we've got ideas to take any special event to the next level. And the best part? You get to capture incredible memories all without lifting a finger.
Ready to rock your next event?
If you're just looking for a photo booth rental, Orlando has plenty of options.
But if you're looking for a one-of-a-kind, customized experience where you feel like the VIP, look no further than Photobooth Rocks!
Whether you have 20 guests or 200, our team is devoted to making your special event truly unforgettable. From our state-of-the-art photo booths to our jaw-dropping backdrops to an endless selection of props, we help you create the ultimate custom experience.
Your photographer can only capture so much. Entertain your guests and see your wedding day from a totally new angle with a photo booth!
Today's booth styles have a very small footprint, so they work with any size wedding venue, and come with your very own photo booth concierge* to give your guests the red carpet experience.
Create an interactive experience with our Mirror Photo Booth or capture unforgettable moments with our Video Photo Booth for well-wishes you'll enjoy for decades to come.
*Photo booth concierge not available with all models.
Increase engagement or make a splash at that upcoming trade show with a photo booth. (Trust us—no one can pass it up!)
Keychains and water bottles are great, but no one can throw away a photo, making them the ultimate addition to anyone's swag bag.
Looking for something unique? Our revolutionary 360 Booth records 360° video clips in high-definition.
Photo booths are the perfect way to celebrate a cause while giving a shout out to your amazing sponsors.
Add a logo to a physical or digital photo for maximum visibility. Add custom wrapping to the booth so donors know who to thank for an amazing time. Or talk to us about creating a custom backdrop to fit the theme, cause, or organization. (Our Green Screen booth is perfect for this!)
Posed prom photos are a classic for a reason, but there's something special about those silly, impromptu moments with your closest friends.
With a photo booth, students can capture memories they'll treasure for a lifetime.
We offer multiple styles of open air photo booths that will fit the entire squad, including the Digital Photo Booth, which creates digital images that are perfect for sharing on social media.
You've worked hard to get to this moment. Celebrate your biggest accomplishment with a photo booth!
It's likely that your graduation party will include guests of all ages—from your littlest cousins to Great Grandma Betty. Trust us when we say that nothing has the same universal appeal as a photo booth!
The celeb-worthy filters in our Glam Photo Booth will give you the perfect "glow up." Or take things up a notch with our Vogue Photo Booth light tunnel.
With Photobooth Rocks!, every occasion is a special occasion. We bring the party to events of all times, throughout Orlando, FL:
At Photobooth Rocks!, unforgettable events aren't "special," they're the norm. With our team of party professionals, we'll help you create the entertainment that's perfect for your unique event.
But most importantly, we'll help you create and capture incredible memories that last a lifetime.
Reach out to tell us more about your event!
Events should be FUN, which is why we'll never add to your stress by creating extra work for you!
Having a photo booth at homecoming is as easy as 1-2-3!
We also are an approved vendor for most Orlando venues, including Orange County Convention Center, Loews Hotel, Universal and Disney properties, and carry the required amount of insurance.
Your students deserve to celebrate the completion of another school year! And if you need to make some extra memories, we can extend your rental with hourly and multi-day rentals and discounts. Our photo booth operations team will work with you on package options, printout customization, and branding, and provide an attendant during your entire rental period.
There is a reason we are Orlando's #1 photo booth rental company. Contact us to find out why!
Need a little extra something for your event?
Look out, Hollywood! We've brought this movie-making tech into the event space to help you create a truly immersive experience.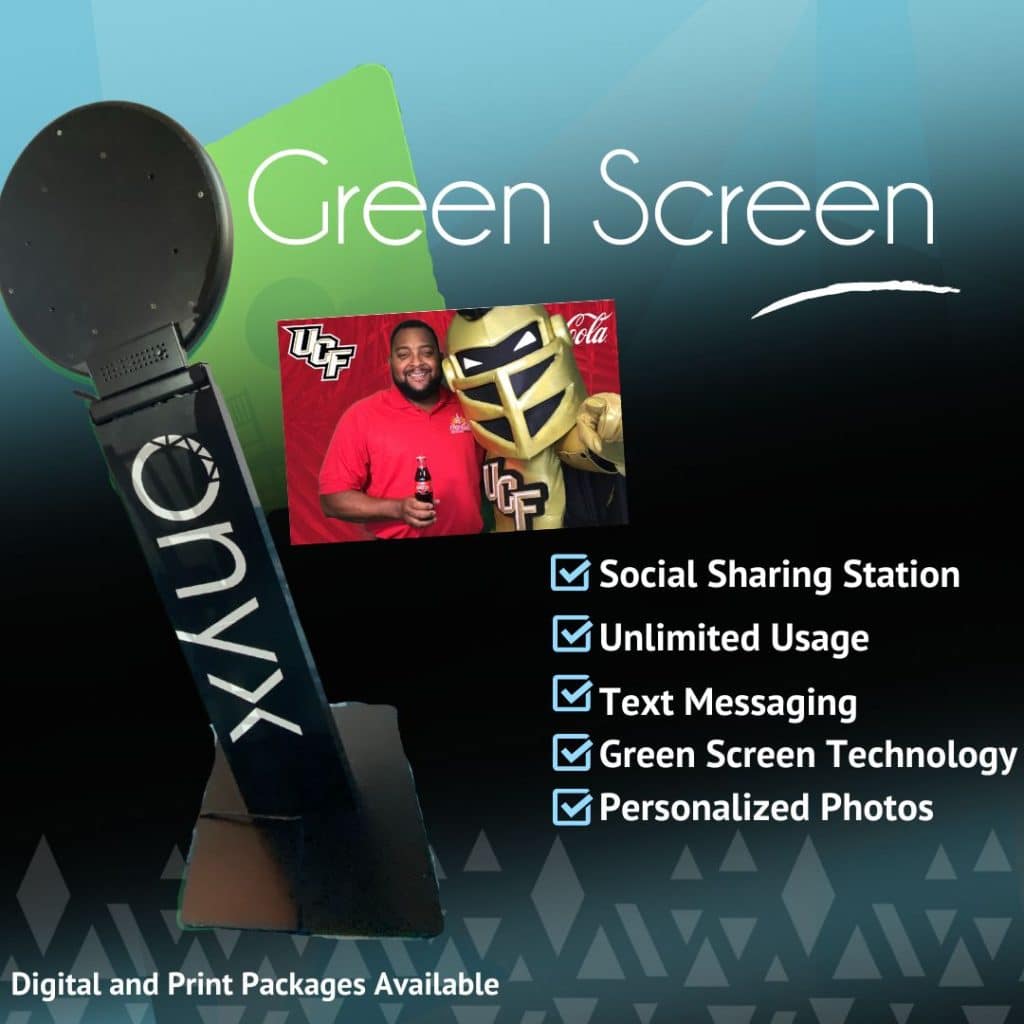 The world (literally!) revolves around you with our 360 photo booth. Featuring a plethora of awesome features, this is one experience you can't miss!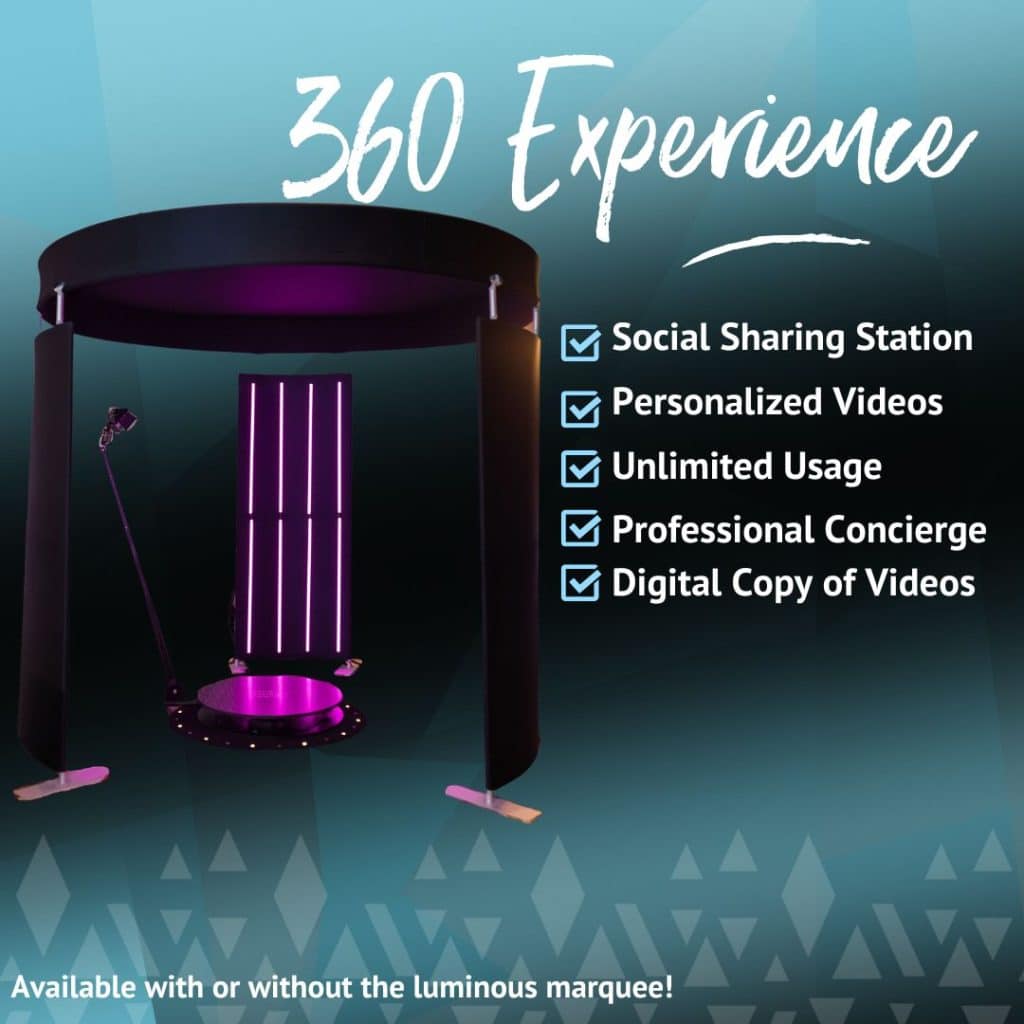 Make every guest feel like a VIP! Sleek, chic, and always unique, the Vogue Photo Booth is the ultimate choice for high-end events.