Hosting a baby shower, gender reveal, or "sip & see" is a much-anticipated event when a couple announces they are expecting. But not everyone looks forward to the same, tired games that have been popular since your grandma was pregnant.
Enter: the baby shower photo booth!
You see photo booths at every other major life event...why not a baby shower? After all, you'll soon be creating tons more images for the family photo album. Get that baby book off to a sweet start!
Here are 6 super cute baby shower photo booth ideas that'll have everyone saying "Oh, baby!"
1. Pregnancy Announcement
You've likely seen photo booth-themed save the date announcements before a wedding. Well, what's a pregnancy announcement if not a "save the date" for your upcoming baby?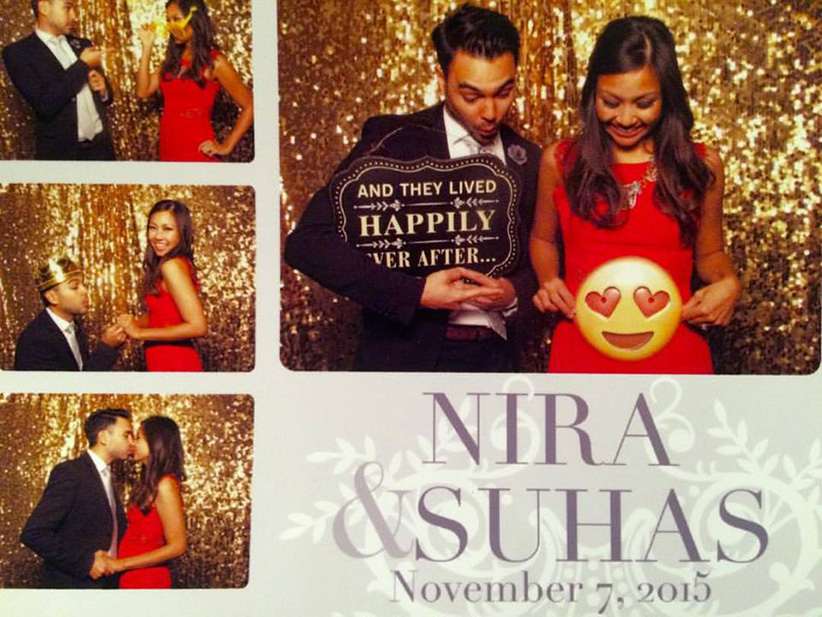 If you don't want to rent a photo booth just for one series of photos, use a photo editing software like Canva or Picmonkey to create a similar look and feel. This will also get everyone excited for the baby shower festivities!
2. Props
Everyone loves a photo booth, but let's face it...props are what make them so exciting! Gather a fun collection of baby shower photo booth props and see how quickly your friends and relatives get in on the action.
While nothing is more classic than the mustache-on-a-stick, you have a lot of options here. From cute sayings to the ever-hilarious pacifier-on-a-stick, props will take your baby shower photo booth over the top.
Here are some more baby shower photo booth ideas using props:
Oversized bottles, bibs, and other baby gear
Cutouts of mommy- and daddy-to-be as babies
Balloons (so guests can look like they're pregnant, too!)
Customized frame with baby's name and due date
Chalkboard or dry erase board (so guests can write their own messages)
If your baby shower has a specific theme, you'll be thrilled to know you can find a coordinating prop (or, have us make one for you)!
3. Video
That mall photo of yesteryear might have been a one-trick pony, but today's photo booths can do so much more! And one of our favorite features is video messaging.
Instead of just taking still photos, let guests record short video clips with their best advice, hopes, and congratulations for the new addition to your family.
This is one of our favorite baby shower photo booth ideas! Your closest friends and relatives are already together to celebrate the new life you're bringing into the world. Once your little one has arrived, you'll be able to enjoy everyone's heartfelt wishes (keep the tissues handy!).
With our Video photo booth, you can not only capture those wishes and memories forever, you can share them with your little one when s/he's old enough.
4. Custom Backdrop
Not every baby shower venue has the perfect photo booth backdrop (especially if you're hosting it at your home). Hanging a cute backdrop is the easiest way to create an instant, selfie-ready canvas that'll make those photo booth pictures stand out.
At Photobooth Rocks, we offer a variety of backdrop colors to suit your event, but if you want something a little different, consider a  Green Screen or customized photo booth background.
5. Predictions
What's something baby showers and the Super Bowl have in common?
Betting pools!
People love to bet on babies: the gender, name, due date, birth weight...you name it, people will bet on it. So use the photo booth to capture those predictions at one time (so no one can cheat)!
Use a chalkboard or dry erase board and have people write down their predictions (perfect for a gender reveal party!) and collect all the information for later.
If you'd rather not encourage the betting aspect, have people write down their predictions for the baby's personality. Will he be a great sleeper? Will she love ballet? These will be fun to look back on once the baby is a bit older.
6. Photo Strips
At Photobooth Rocks, we've noticed that the host enjoys the pictures as much as the people in them. That's why we include double prints of every single photo taken in the booth: one for the guest and one for the host.
The host's copies go into a guestbook next to the signature and best wishes of their guests and you have a perfect memento to revisit for years to come.
Conclusion
From bar mitzvahs and quinces to graduations and weddings, photo booths are the perfect way to celebrate those big milestones in your life.
And what bigger milestone is there than welcoming a brand-new addition to your family?
A gender reveal or baby shower photo booth is not only a great way to have fun at your event, it's a sweet way to gather everyone's best wishes and happy messages for an amazing time in your life.
If you enjoyed these baby shower photo booth ideas, you'll love everything else we have to offer. Photobooth Rocks is Orlando's favorite photo booth rental company because we are the best at rocking your event! With multiple booth styles, backgrounds, and prop options to choose from, we give you the freedom to customize your perfect event.
Contact Photobooth Rocks today to reserve your booth!