Events That Get the Green Light
This isn't the photo booth experience you're used to. Green screen backgrounds take your photo booth rental to a whole new level.
Step outside your reality and into any world you can only imagine with Green Screen Technology!
At Photobooth Rocks, we believe that every event has the potential to transform your venue and transport your guests to another time and place. With our new green screen photo activation, anytime, anywhere, anything is possible!
Turn heads and pique interest with green screen backgrounds that can be whatever you want it to be.
Ready to rock your next event?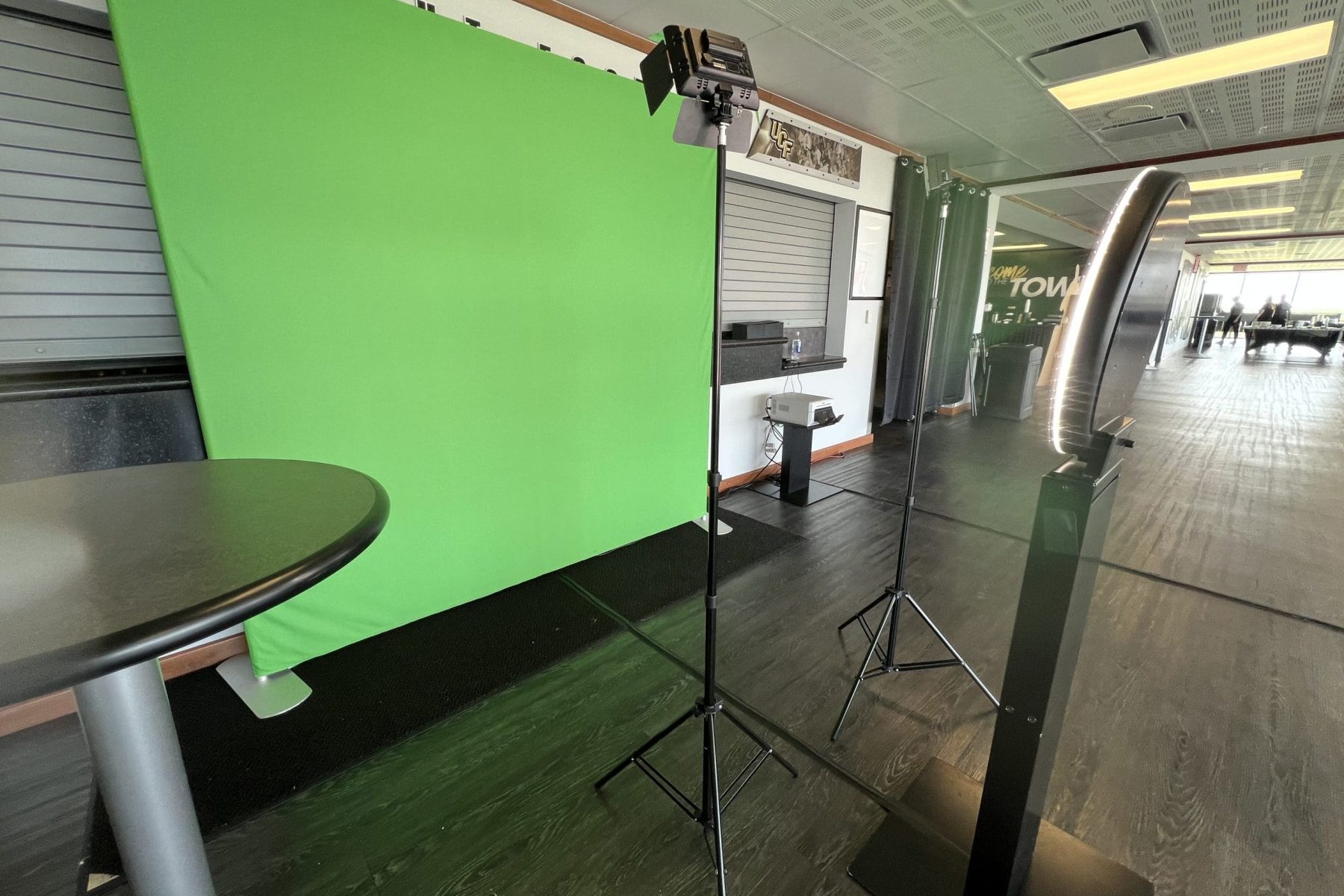 Transport Your Guests Anywhere
This unassuming green screen background contains a world of possibilities.
You can step into any virtual reality, any location you want. Maybe your guests are dressed up to a theme or character and then the photo booth places them into the space or time that their character lives in. Want to take your guests to Paris, Vegas, or ancient Egypt? Offer multiple background options? The green screen makes it all possible.
Prior to your event, choose any images you like and we'll make sure they're ready to roll. And the beauty of a green screen is that when we say "any images," we mean it! 
Promote your company's logo, your wedding hashtag, your prom theme, and anything else. Your options are only limited by your imagination.
With a green screen photo activation, you not only get an incredible customized backdrop; you get an immersive experience that your guests will be drawn to again and again.
You can truly match your photo booth perfectly to your event with a green screen background because your background can be absolutely anything you want.
As your guests line up, they'll see only the green screen backdrop. But once they step up to the photo booth, that's where they get transformed! The green screen background is instantly and seamlessly replaced by your selected image, making it look like your guests are in another country, another time, in a movie, or any virtual reality.
Choose from our selection of photo booth props to up the fun level, and let the green screen photo activation do the rest.
Book Your Photo Green Screen Photo Booth
When true reality needs to transform you to another space, time or scene, the green screen backdrop gives your guests an experience that puts them in the center of your imagination. 
Let us know the time, place, and theme of your event and we'll take care of the rest. Your photo booth rental includes a selection of props and a photo booth concierge to keep the fun going all night long!
What They're Saying About Photo Booth Rocks
We used Photobooth Rocks for our wedding and it was such a great addition! Not only was the booth attractive and inviting, but the staff made guests even more excited to join in on the fun. Love them!
This company has a great selection photobooth and backdrops. Love how you can add details of your event on the photos. The staff is attentive and friendly.
We have had Our Photo Booth Rocks at several of our events and love them! Professional staff, excellent set up and props with beautiful backdrops. Would suggest having their DJ and photo booth for every event!
Ready to take your guests on a new experience?