Photo booths are the ultimate addition to any kind of event, especially engagement parties!
Photobooth Rocks' photo booths are better than the average because not only do we provide multiple types of photo booths to fit all sorts of events, we also boast a sleek design that can mold to any décor, provide ultimate customization options, and also have a staff working to keep you and your guests as safe as possible while celebrating!
We all know that a photo booth comes with a custom welcome screen and graphics for the photo strips, but let's talk about the other features and services that really set your booth apart and give your guests really fun memories along the way!
Social Media Signs
Everyone loves to post about their celebrations and happy moments on social media, so why not take that to the next level and create a custom "Facebook" post or "Instagram" frame commemorating the day?
And if you can't decide which platform to use, customize the frame with just your details—in your wedding colors—and make it unique to you. It can even do double-duty and be used with the photo booth on your wedding day too!
Custom Backdrop
We LOVE when our couples want to take their booth to the next level and match it exactly to their theme! While we already offer a ton of different and stylish backdrop options to go with any color scheme, sometimes you just need that extra WOW factor for your guests.
There are a ton of ways to make your backdrop represent you, like blowing up your favorite engagement photo. You could also take a fun pic just for the occasion and use that as well. That dream trip to the mountains where you got some killer photos? Use that!
If you've got a theme going, or have a particular fondness for a sport or hobby, this is a great jumping off point to theme your background, too. This also works great for Winter Wonderland or Halloween weddings too, and lets your guests step right into the theme you've worked so hard to incorporate. (Psst...our Green Screen makes this SUPER easy!)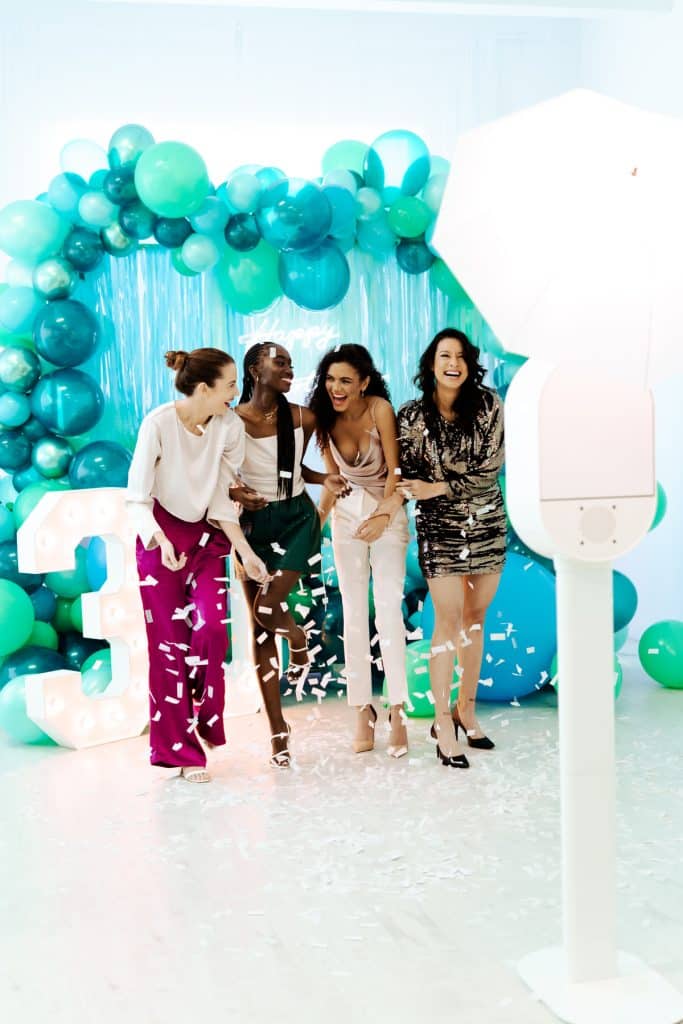 Make It A Game
As fun as it is to take pictures in a photo booth, many guests don't know what to do once they've actually stepped in front of the camera. This could be a really fun opportunity to turn it into a game!
Have some classic family photos of yourselves or other couples on the prop table, and ask your guests to recreate them in the photo booth. The best one gets a prize, and everyone gets to have fun!
You can also get custom props of your faces on a stick and ask the guests to answer a question while in the booth. Who is going to dance harder at the wedding? Who will cry first during the ceremony? Then you can keep a tally going in the scrapbook, and see who wins on the wedding day!
Custom Scrapbook
One of the best features of a Photobooth Rocks photo booth is that each one offers a scrapbook to put your photo strips into! This is such an amazing way to capture every guests' memories and keep them somewhere safe for years to come. And while the standard black scrapbook is perfect for a simple event, did you know that we offer custom wedding albums too?
You can pick your album cover, page colors, and some of them even have the option to do engagement photos on the cover. How fun! And since this would be for your engagement party or shower, make that scrapbook do double-duty and buy extra pages (we can handle that for you!) and use it on your wedding day too. How easy is that, to keep all the photo booth photos from your wedding memories in one easy place?
Video Messages
Another really amazing feature available in most of our photo booths is the video messaging. How great is it to be able to have 30-second clips of your loved ones leaving you well-wishes? You can also ask guests to pull a pre-written question from a jar and answer it during the video message. Best wedding advice, wedding planning tip, should we have a dance off, etc.
Props
Some of the cutest props available are perfect for an engagement party photo booth!
Lips and mustaches are perennial favorites, but giant rings, "she said yes" speech bubbles, and even "will you be my bridesmaid?" signs can turn a fun activity into a cute milestone for your wedding planning. Who wouldn't want to be asked to be your bridesmaid while taking photos with you in the photo booth?! Think of the cute, genuine reactions you'll capture!
Party Favors
Now that the photos are snapped and the laughter's been had, send those memories home with your guests in a super creative way! Order some magnetic photo strip frames for the fridge, get standing frames and add a fun insert before they're filled with pictures, or turn your Save the Dates into an envelope so they have a safe place to set their collection of photos.
Let's Get Married!
To sum it up, photo booths aren't just for weddings. Give your friends and family an idea of the wedding fun to come by having an engagement party photo booth set up with cute props, a theme backdrop, a customized photo album, a cute takeaway, and more!
If you loved these ideas, there's more where that came from!
At Photobooth Rocks, we know that a great photo booth makes an event fun for everyone. And customizing your photo booth experience makes your event more fun for YOU!
To check availability and to discuss options for your next event, contact us today!