Isn't it funny how no one ever seems to want their picture taken...until there's a photo booth? Then, they can't get enough of it!
And the beauty of photo booths, especially new digital photo booths, is the picture opportunities are truly unlimited. And so are the chances for cute photo booth poses.
But sometimes it's hard to come up with new photo booth pose ideas, especially after you've visited the booth multiple times already. After all, you only have a few seconds between each picture (and sometimes there's a lot of people to coordinate).
And that's where we come in. We're so glad you found us!
At Photobooth Rocks, it's our number one priority to make sure that everyone has a blast in the photo booth and ends up with amazing, silly, fun, gorgeous pics and memories that will last a lifetime.
To help you avoid a bunch of blurry, unorganized images, we've compiled a list of cute poses, funny poses, and all-around fun ways to pose for photo booths at any occasion! And remember: the sillier, the better! (That's one of our rules!)
So here are a few cute photo booth poses that will make for great pictures!
Wedding Photo Booth Poses
For a cute photo pose at your wedding, make it all about the love.
Make a Heart
Use your hands to make a heart shape. For a cute couple pose, have each person make half of the heart.
Show Off That Ring
There's a dozen ways you can show off your bling! Stick up just your ring finger (like in the photo above), stick your left hand out and show off the ring to the camera, or make a surprised face and cover your mouth with your left hand.
Now that rock is front and center!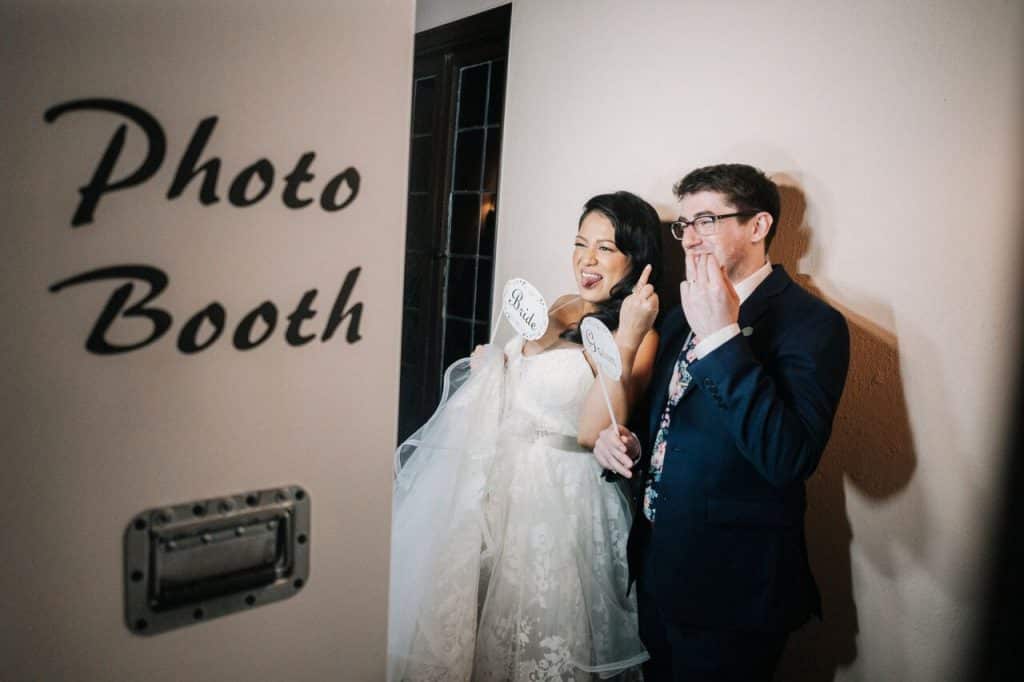 Blow a Kiss
It's a classic "red carpet" pose and one of our favorite photo booth pose ideas for a reason. (Just remember, this is different from "duckface.")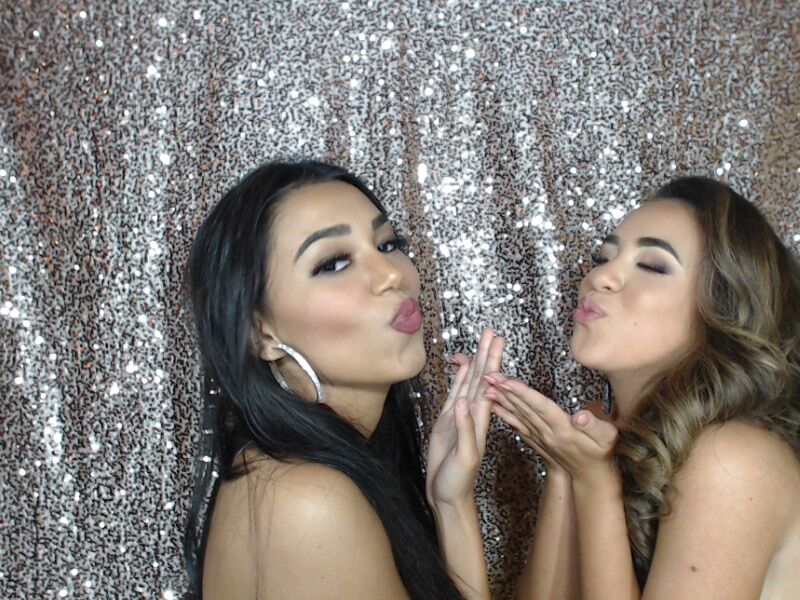 Holding Hands
Face each other and hold hands. If you're the newlyweds, have the officiant stand behind you and recreate your ceremony!
You May Now Kiss the Bride
Make a bride sandwich! Gather two friends or family members and have them both give her a kiss on the cheek. (This is a great pose to do with your maid/matron of honor!)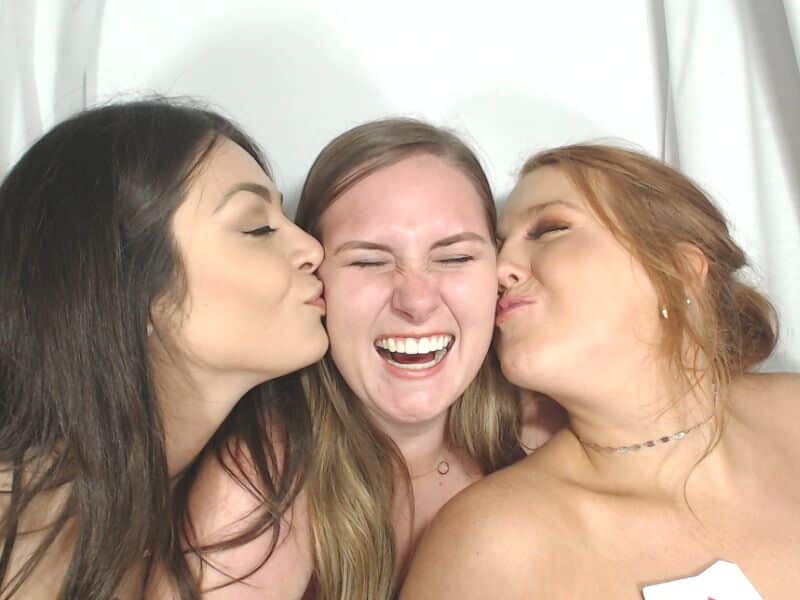 You May Now Kiss the Groom
Don't leave grooms out of the fun! Steal the bridesmaids for a cute photo booth pose you'll cherish!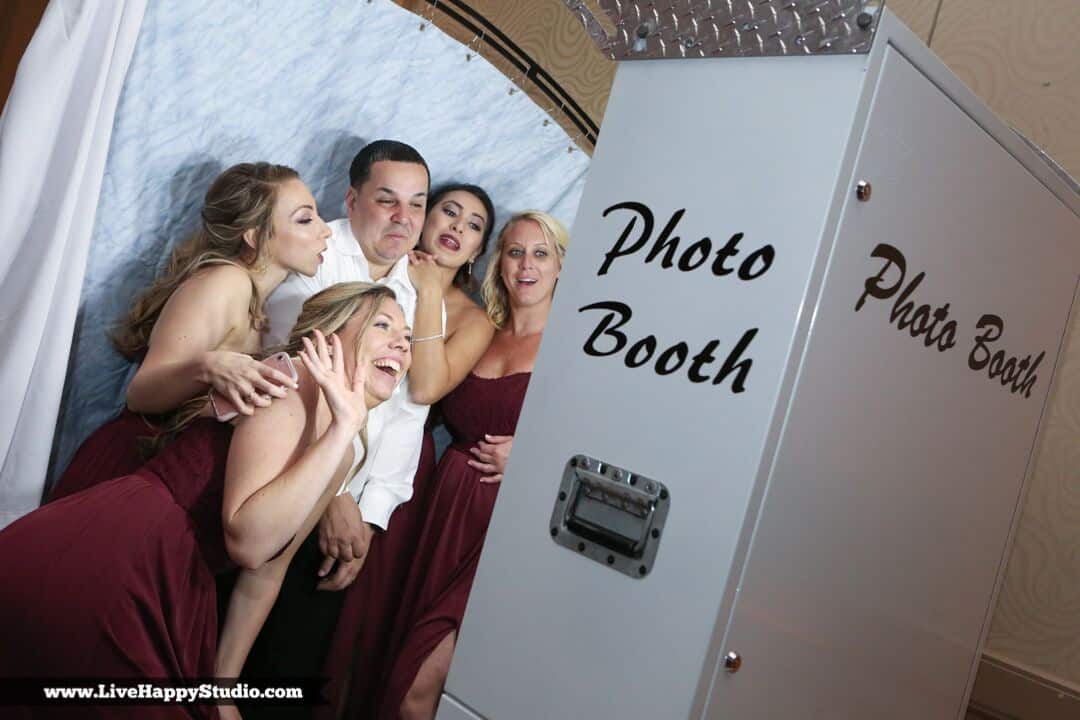 Silly Photo Booth Poses
Fake a Selfie
Lean in and extend arms toward the camera so it looks like you're taking a selfie.
Peekaboo!
Hide behind another person or hold a prop in front of your face. You can either peek out or stay hidden, but if you can't see the screen, make sure you have someone to tell you when to switch up your pose!
Do the Dab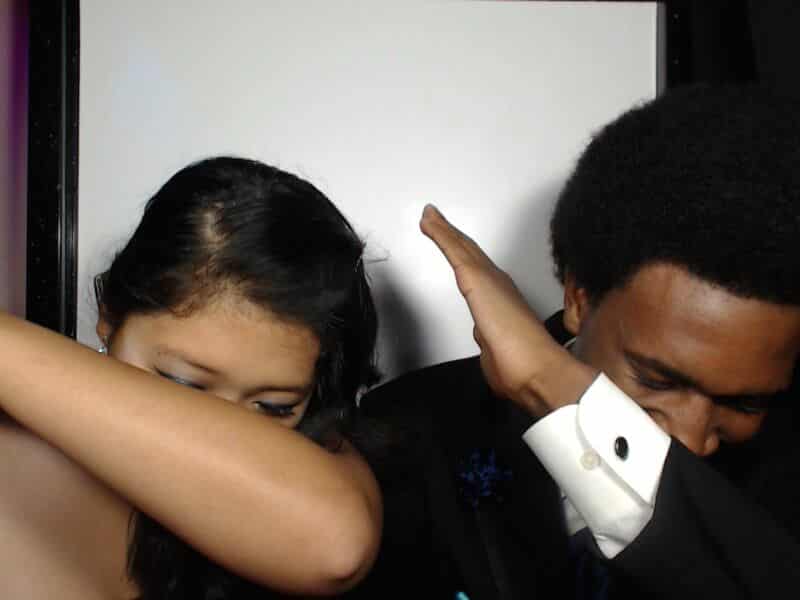 Dabbing may not be in its prime, but there are plenty of other moves all over TikTok and Reels that you can have fun with in the photo booth. These make for really cute photo booth pictures at school dances or graduation parties.
And don't worry about the photos looking ridiculous in five years...in 50 years, they'll be quaint!
Shh!
The classic pose that shows you have a secret.
Extreme Close-Up
Get as close as you can to the camera. This is best done with sunglasses on. Those lights are bright!
Deuces!
No list of photo booth poses would be complete without the peace sign. Pair it with some psychedelic glasses to complete the look.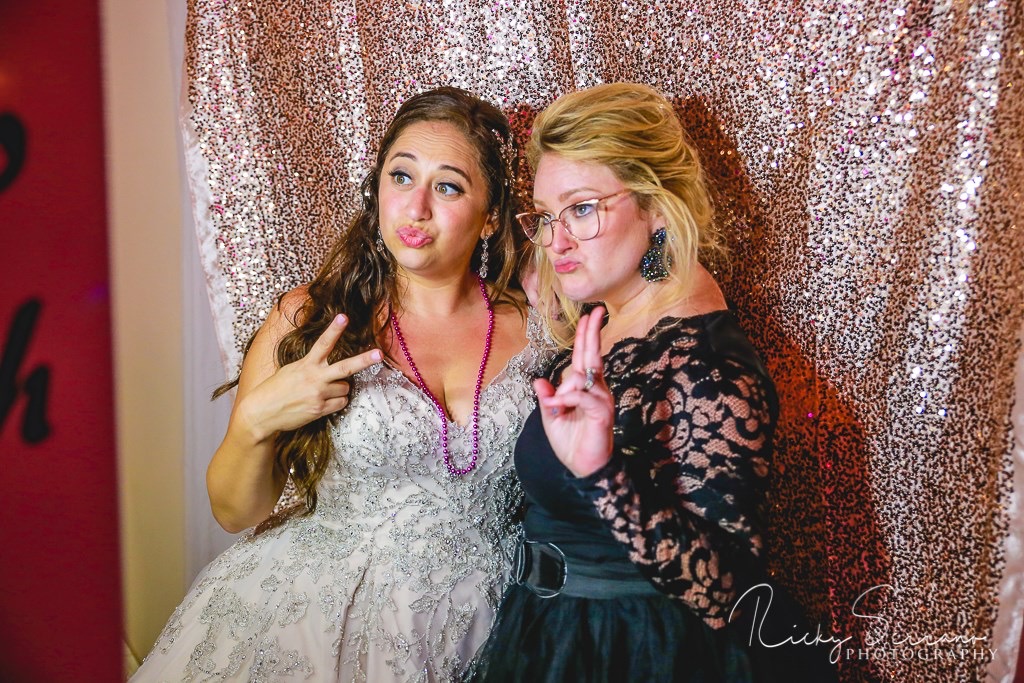 Tongues Out, Guns Out
This one is pretty self-explanatory...and shows off all the hard work you've been putting in at the gym. Flex those muscles for the camera.
Prom Pose
You know the classic "prom pose," right? Where the guy stands behind the girl and puts his arms around her? The trick to doing this right is being as stiff and awkward as possible (just like on your actual prom night).
Let Your Inner Supermodel Out
Pretend you're posing for Vogue or on the runway at Paris Fashion Week and work that photo booth! Especially if you're in our stunning Vogue Photo Booth! Feel free to be as silly or serious as you'd like. Either way, it makes for a great photo!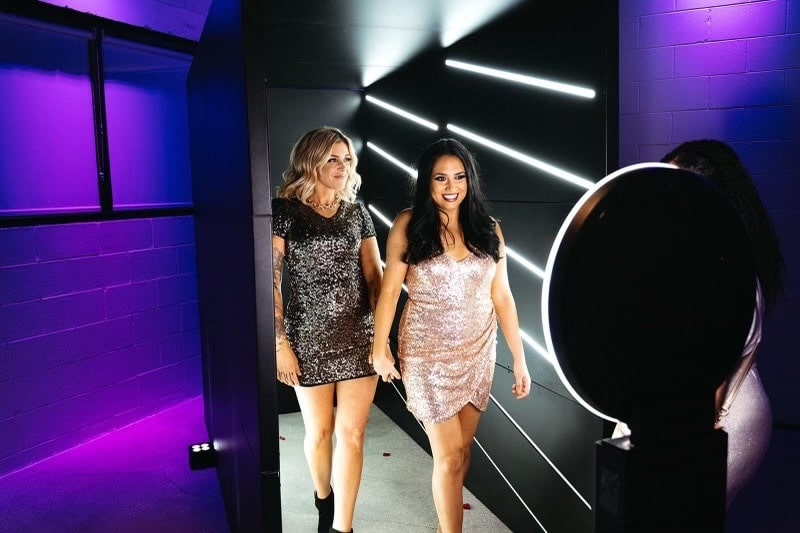 Look Anywhere But The Camera
Faces are so last decade. Look up, down, to the side, or turn around and face the backdrop.
Napoleon Dynamite
Remember that scene where Deb is taking Uncle Rico's picture? Put your fist under your chin and imagine that you're weightless in the ocean, surrounded by tiny seahorses....
Mustaches (duh)
Mustache-on-a-stick is the most popular photo booth prop for any gender. We have the photo evidence to prove it! Now matter what your photo booth picture ideas is, don't leave put the props.
Group Photo Booth Poses
Come on Ride the Train
Make a chain of people and walk past the camera as it's taking pictures. This is best with our Open Air Photo Booth or Mirror Photo Booth where you can create GIFs as well as stills.
Bust a Move!
Revisit those cheesy dance studio portraits from your school years and strike a jazz or ballet pose. Or bust your favorite dance move for a fun action shot (psst...this looks incredible in our 360 photo booth)!
Photo Bomb
Interrupt someone else's photo for a fun candid moment. Their reactions will be well worth it!
BYOB
Bring your drink into the booth (be careful not to spill!) and take a swig for the camera.
YMCA
You might not want it played at the reception, but doing the YMCA can make a cute photo booth pose lineup for four people.
Fake Fight
Put up your dukes and pretend you're settling an old grievance. If you want to get really creative, use the other photos in the series to tell a story.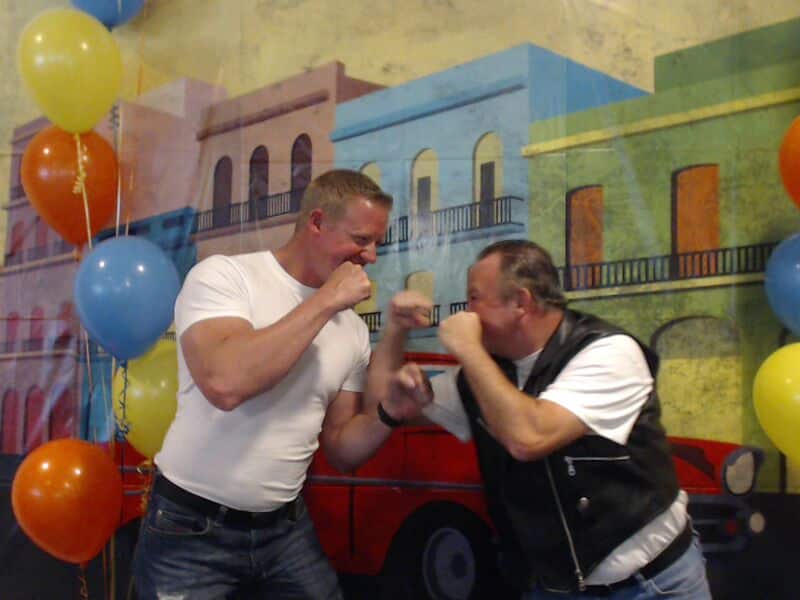 Piggyback Ride
Hop on a (strong) friend's back for the perfect pose!
Bring in the Whole Family
Our Open Air, Mirror, Digital, and Glam photo booths can fit a much larger group, so cram in and take a new family photo!
Charlie's Angels
This is the perfect pose to show everyone what your squad is all about.
Cheer!
It's a party after all! Whether you're at a wedding, bar mitzvah, or holiday party, being in a photo booth means having a reason to celebrate! So jump for joy and scream out with excitement. Hip hip hooray!
See No Evil...
Grab your three closest friends and reenact the classic "see no evil, hear no evil, say no evil" pose. (Got a fourth friend who wants in? Originally, there was a fourth monkey sitting on his hands to represent "do no evil.")
Super Cool
There's literally nothing that says "cool" quite like sunglasses. Grab a pair for each member of your posse and show 'em you're too cool for school.

Tips for Striking the Best Photo Booth Poses
Here are a few more tips to help you look your best and come up with some fun photo booth poses on your own!
1. Get Camera Ready
The best photo booth pictures are the ones you feel comfortable taking. So take a look in the mirror really quick and fix any stray hairs, lipstick stains, or broccoli in your teeth before you hop into the photo booth.
2. Try Different Facial Expressions
Let's face it...you've been smiling for the camera since you were old enough to say "Cheese!" Try out a few different facial expressions for a unexpected and unique photo session:
Confused
Mad
Smug
Panicked
Triumphant
Mischievous
3. Use the Props
Use those photo booth props covering the table to spark some creativity. Raise Thor's mighty hammer over your head like a superhero. Wrap a feather boa around your neck and strike your best "diva" pose. If there's a Green Screen, use that to your advantage and interact with the backdrop! Don't forget, you can get custom prizes just for your party.
4. Grab a Friend
Sometimes, having someone in the picture with you takes a lot of pressure off. Grab your wedding date, bestie, or coworkers and make some magic!
5. Relax!
If you don't like how your first set of photos came out, don't sweat it. No one says you have to keep your photo and there are certainly no rules against taking another one!
Strike Your Best Photo Booth Pose with Photobooth Rocks
Any one of these adorable photo booth poses would make an excellent addition to your photo album.
But don't just try one...try them all! When you rent a photo booth with Photobooth Rocks, you and your guests have unlimited access to the booth for the entire rental period! We also include the backdrop, props, and an attendant to bring your party to the next level.
Ready to book? We'd love to hear more about your event!