From the Friday night lights of homecoming to the magic of prom, your students are starting off the school year already excited about the upcoming formal events.
When it comes to planning school dances, don't phone it in! Your school's enrollees are not only looking forward to the dances, they'll look back on them later. Choosing a unique and dramatic theme makes those memories even more special.
Here are 15 school dance themes that will blow your students' minds.
Homecoming
Homecoming's more casual atmosphere lends itself to a lot more creative themes! Forget the "Enchantment Under the Sea Dance," these ideas are sure to amaze!
1. Glow-in-the-Dark
No one—child, teenager, or adult—can resist the allure of things that glow in the dark!
Decorate the event space with lots of black drapery (block any windows), make signs with glow-in-the-dark paint, pass out glow sticks, and serve "Black Light Lemonade" (the tonic water glows under a black light)!
Looking for an extra touch students are guaranteed to love? Our Light Tunnel is half-retro, half-futuristic, and 100% awesome!
Don't forget to let everyone know where the photo booth is! One of our neon signs or LED-lit booths will make sure that everyone can still find it in the dark.
2. Around the World
Egypt, New York City, London, Venice…how do you choose? Easy: you don't!
Decorate different sections of the event space as different cities, countries, or regions. Perhaps the beverage table is the oasis in the Egyptian desert and the area beside dance floor is "The City That Never Sleeps." Your students will have a blast going "around the world" and taking pictures by each of the world-famous monuments.
You can also take them around the world virtually with our Green Screen!
3. The '90s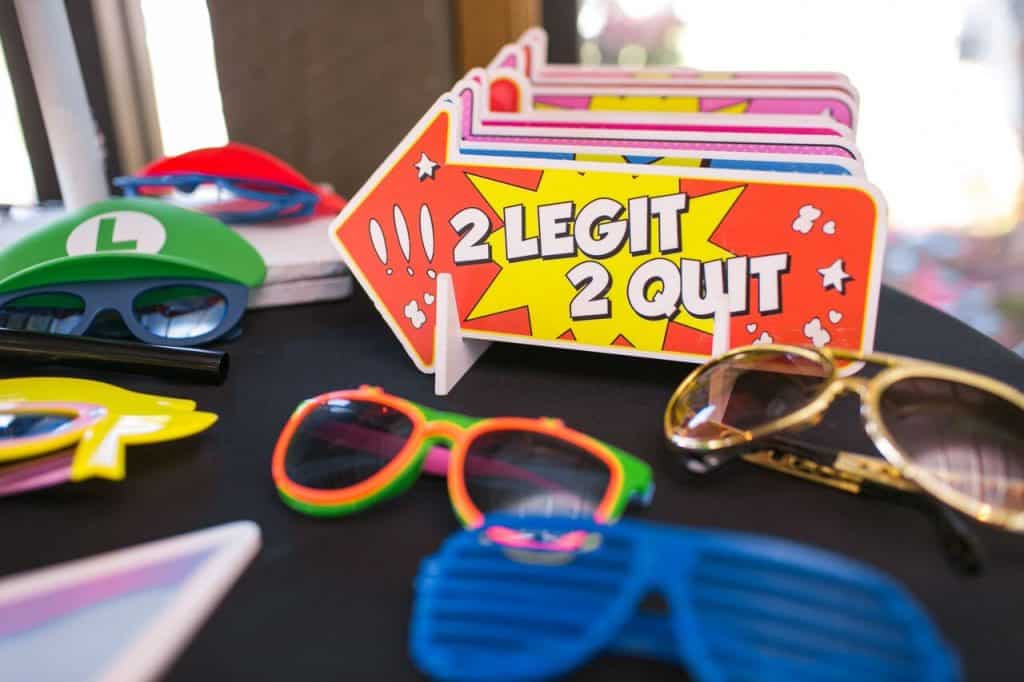 They may not have been there, but Gen Z loves a little 90's throwback! (It doesn't hurt that the faculty and chaperones do, too!)
Spin some Backstreet Boys and Weezer tunes and have everyone come in classic 90's clothes: flannel, flared jeans, butterfly clips, and JNCOs. Set up the photo booth with some classic 90's era props like the ones pictured above and let everybody party like it's 1999.
4. Carnival
Recreate the fun of a classic carnival with red-and-white striped décor, colorful accents, and lots of booths. Serve classic carnival foods, such as cotton candy, candy apples, funnel cakes, and popcorn. And don't forget the games!
If you have the budget to bring things up a notch, hire some stilt walkers, fire eaters, acrobats, or other local entertainers to add to the spectacle.
5. Wild, Wild West

With the hay bales, wheelbarrows, and bandanas, you might mistake this for a fall festival.
Western-themed school dances fit in perfectly with these time of year. Decorate with red gingham tablecloths, lots of rustic accents, and serve drinks out of Mason jars.
Winter Dances
Central Florida might not have four seasons, but that doesn't mean we can't get in on the fun! Winter formals arrive at the mid-point of the school year, so they're a great way to provide a little break and reward the students for making it this far.
6. Winter Wonderland
Yes, it's the most obvious, but a "Winter Wonderland" theme is also one of the most beautiful school dance themes you'll find.
Decorate everything in white with touches of gray and icy blue. Make it snow on the dance floor and project images of falling snowflakes on the walls.
Our white open air photo booth with silver glitter backdrop will perfectly blend into the décor.
7. Yule Ball
Harry Potter fans will have a blast at a Yule Ball-themed school dance!
You may not be able to have the dance at Hogwarts, but you can recreate the great hall with modern technology. Hang battery-operated candles with fishing line to create the illusion of floating lights and place flickering lights at random spots through the auditorium.
8. Ski Chalet
If done right, this can be a really cozy event.
Serve hot chocolate and encourage everyone to come in cozy sweaters and knit hats (depending on the weather, you might have to crank the air conditioner up for this one).
9. Candyland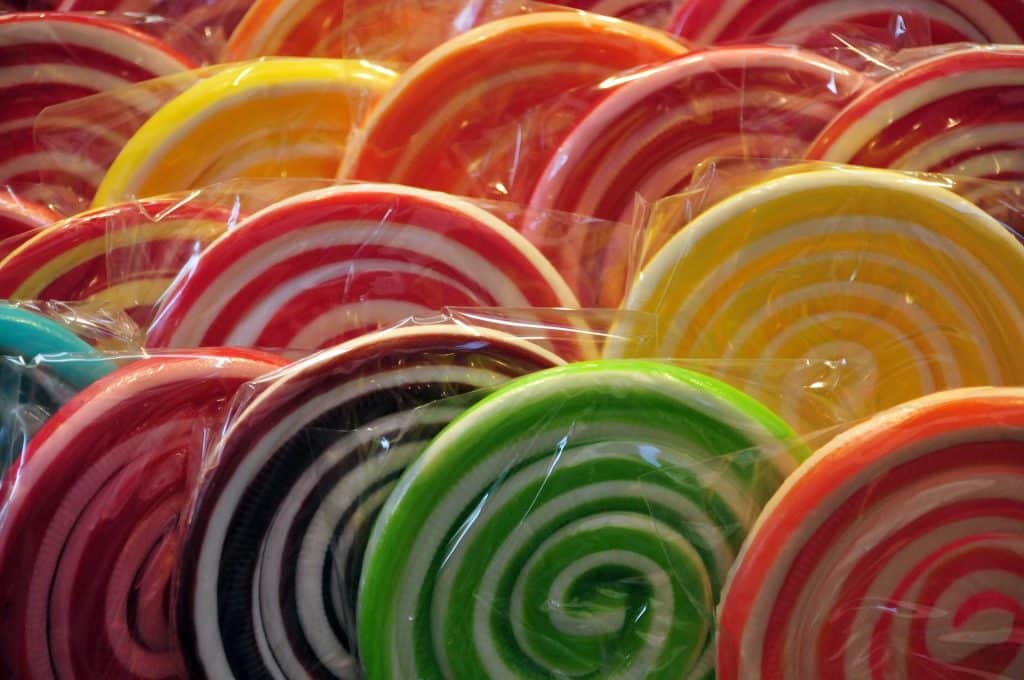 Not everybody celebrates Christmas, but that doesn't mean your holiday party has to be boring.
Use the classic board game for inspiration and create a colorful candy scene, complete with giant lollipops, gingerbread men, and candy canes. (These make great photo booth props!)
10. Winter Solstice
Celebrate the longest night of the year by throwing a school dance that's all about the night sky. Make your event space as dark as possible, then decorate with white Christmas lights ("stars") and falling snow. (Bonus points if you can make the ceiling look like a starry sky!)
Prom
What American kid hasn't grown up imagining what prom will be like? Give them a night they'll never forget with one of these magical and memorable themes.
11. Masquerade Ball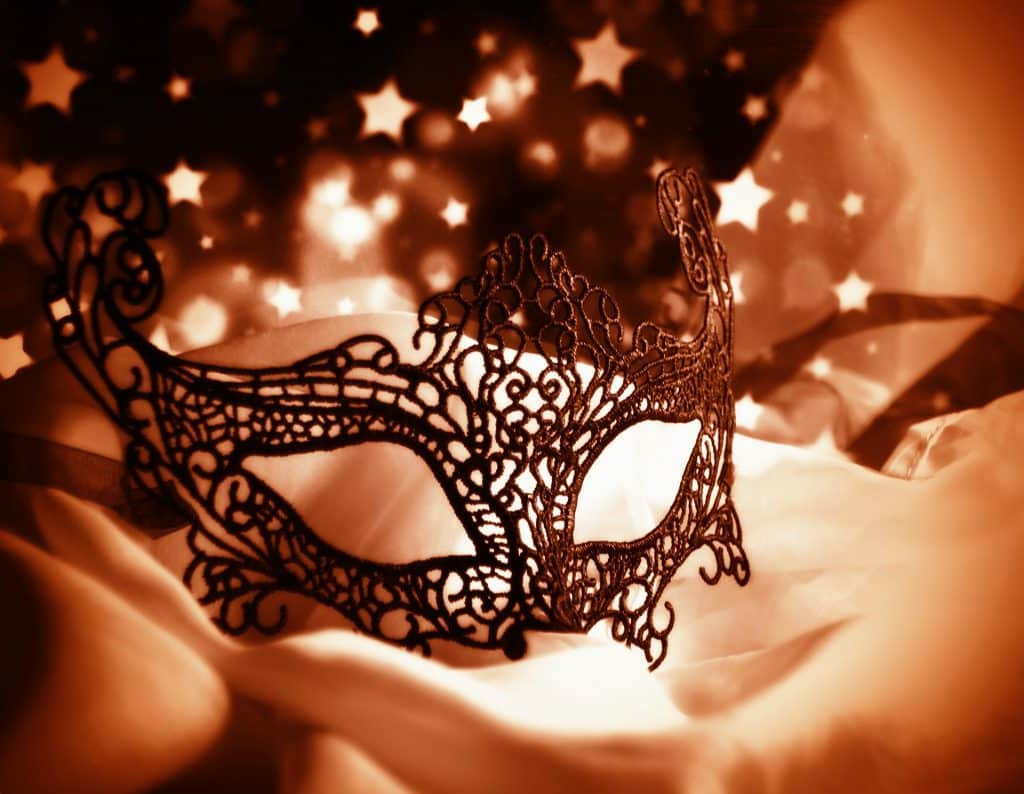 Guess who!
No one can resist the allure of a masquerade ball. (Plus, those masks look great with formal wear!)
Encourage the students to bring their own masks or set up a station where they can decorate their own. Make sure the event space is draped with touches of opulence (gold, burgundy, and navy is a classic color scheme) and you'll have a ball!
12. Fairy Tale
Make a magical night even more special with a fairy tale-themed prom.
Decorate the venue with props in the shape of castles, carriages, and floral arrangements to create the look straight out of a story book.
13. Great Gatsby
The Great Gatsby has been an English class staple since the 1920's, but its popularity really took off after the 2013 movie and the appeal is still going strong!
Recreate the Jazz Age with Art Deco décor, retro tunes, and a general sense of over-the-top celebration!
14. Springtime in Paris
Whether they're attending prom with a date or with friends, Paris is a theme that can't miss.
Eiffel tower props and a navy-and-gold color scheme make for a beautiful atmosphere (and some really great pictures)!
15. Hollywood
Roll out the literal red carpet and make the students feel like celebrities with a Hollywood-themed prom.
Set up one of our velvet ropes around the photo booth as a "VIP" area and announce prom court in the style of an award show. Hire a roaming photographer to act as paparazzi for the night (the kids will love it)!
For some added glitz and glamor, our 360 Booth will make everyone feel like a star.
Conclusion
Whether you're planning your school's homecoming, prom, or anything in between, make sure your school dance theme sets the tone for an unforgettable event.
The student body looks forward to these events, but they also look back on them with fondness for the rest of their lives. Trust us: they want professional, fun photo documentation of this night. Photo booths are the best way to put a fun-filled spin on your formal event.
Photobooth Rocks has worked at nearly every formal event venue in this town and provided backdrops and photo booth props for myriad themes. Ask us what's available; we'd love to help you plan your next school dance!