Everybody—young, old, and everyone in-between—loves the charm and appeal of the classic photo booth. And while they might be the next best wedding trend, you don't have to put a ring on anything to rent one! In fact, we think that photo booths can enhance, or even replace, typical special event photography.
Formal event photographers have to be mobile so they can capture heartwarming candids and joyful action shots. This is ideal for a wedding, when you want every second to be captured. But for a prom, homecoming, or college formal, you might not want to shell out the big bucks for one professional to roam the floor all night.
Best of Both Worlds
Enter: the photo booth! It's an event activity (believe it or not, some people don't like dancing!), a souvenir, and a way to photograph your guests…all in one convenient box. (We'll even deliver it for you and set it up whenever you want!)
Unlike a photographer, a photo booth never has to convince anybody to pose or look at the camera. In fact, we usually have a line of people waiting to get in. Trust us…EVERYONE loves a photo booth!
So let's take a closer look at how a photo booth from Photobooth Rocks can make your next event ????.
Prom
It may be August, but that doesn't mean it's too early to start planning for prom.
The prom is the highlight of most students' school years, so you want to celebrate BIG. One of our favorite prom planning ideas is to have a photo booth with props that represent that school year, like popular slang, pop culture references, and prom-related hashtags. (Or choose one of these awesome school dance themes.)
Hiring a photographer to capture candid moments at prom is great, but professional prom photography can either look too stiff, too formal, or too cheesy. Do any of those words describe any high school students you know? (Yah, me neither!)
So forego the typical "prom pictures" for something a little more representative of the Class of 2019. We guarantee that the teachers, administrators, and chaperones will love it as much as the students!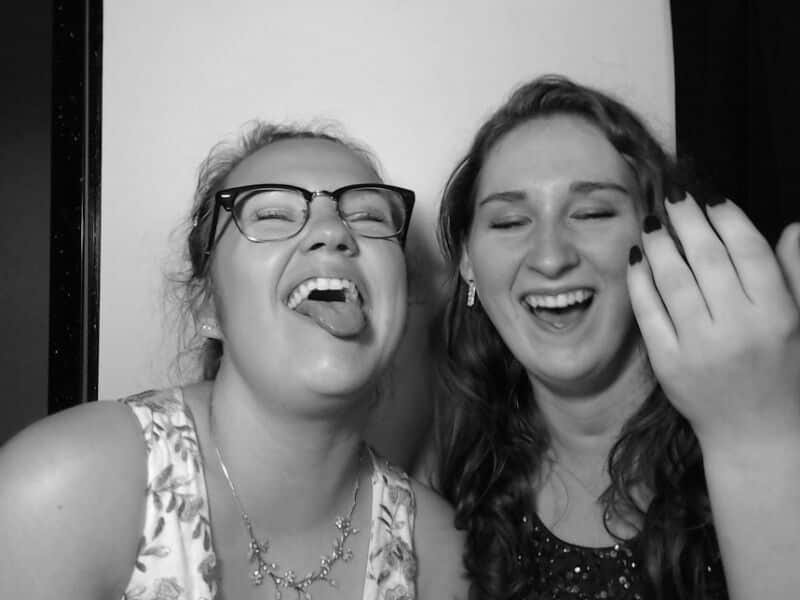 Homecoming
With a slightly more casual dress code and an emphasis on football, homecoming pictures can be a lot of fun!
And there's no better way to capture those homecoming memories than with a photo booth! Your student body will love having a full-blown selfie station so they can pose with their friends. While photo booths don't have filters like Snap Chat does, we do have lots of fun props!
And since it's homecoming, you have the additional option of football-themed props that are sure to be popular. Choose props and costume pieces that reflect your school colors or mascot so the students can show a little team spirit.
Homecoming season is fast approaching, so make sure to reserve your favorite booth today!
College Formals
College formals combine the fun of a high school dance with the freedom of being an adult. Step aside, dress codes and chaperones…it's about to get real!
Dancing with your sorority sisters and hanging out with your frat brothers is even more fun when a photo booth is involved. If your Greek formal has a theme, we have props to match. If you want to wrap the entire photo booth with your Greek letters or your school's logo, we can do that, too! In fact, we can put whatever logo you want on each photo strip that prints out.
Chances are, your chapter has had enough toga parties and luaus to last a lifetime. Renting a photo booth is a great way to shake things up in a way that everyone will love.
Conclusion
Whether your formal event is held at a school auditorium or a fancy downtown venue, Photobooth Rocks would love to help you with the kind of event photography that everyone will love. We've been going to all sorts of events—from weddings to bar mitzvahs—throughout Central Florida for years. Nobody knows this town like we do!
Plus, when you book a photo booth for your next formal event, you're not just booking a fun activity for the night, you're also getting the perfect favor for guests to take home and remember the event. And with a photo booth, you'll never have to convince anybody to look at the camera and say "cheese." They'll be lining up for their chance to snap a shot.