This Feb. 24, an estimated 25 million people will be tuning in to the 91st annual Academy Awards.
The glitz and glamour of Hollywood, the buzz around this year's best talent, and a chance to get together and talk about all of it…this is the perfect chance for an Oscar party! (Plus, unlike the Super Bowl, no one needs to stick around for the commercials, so you'll have plenty of time to mingle.)
Whether you've got weeks to plan or just a few days, you can still throw an Oscar party that ROCKS, from the invites to the end of the night.
Invites
Make your guests feel like A-listers with a sleek invitation that fits the theme.
Websites like Vistaprint offer literally hundreds of affordable invitation templates for every possible theme and style. Just plug in your information, select the number of invites you want, and they'll show up at your door, ready to go.
If you're creative, you can use a photo editing software like Photoshop or even Picmonkey to design your own. Digital files can easily be sent to a local print shop.
Last-Minute Option: Don't have the time or money to send out formal invites? Create a digital invitation and either email it or post it up on your Facebook event page. Everybody is on Facebook now, anyway. Plus, you'll have an easy way to collect RSVPs.
Dress Code
Half of the fun of watching the Oscars is seeing the red carpet fashions.
Create your own fashion show by having your guests come in formal wear. There's nothing that feels more glamorous than sitting on a couch eating popcorn while wearing sequins.
For the ultimate red-carpet experience, consider hiring a photographer or recruiting a friend to act as paparazzi while your guests are arriving. (Bonus points if they ask all the arrivals, "Who are you wearing?")
Last-Minute Option: Every woman has a bridesmaid dress that's languishing in the back of their closet. You hardly ever get to wear it, and that floor-length gown is really too pretty to sit in the closet all year.
Red Carpet
And speaking of "red carpet experience," the evening wouldn't be complete without a red carpet.
If you can get your hands on a red carpet runner, great. Otherwise, most party stores sell cheap fabric runners that will be perfect for the night. Just make sure to secure it so no one slips.
Last-Minute Option: Go easy on yourself and just make your buffet table the star! Grab a red vinyl tablecloth from the dollar store and cut it down to about one-third the width of your table. Your bowls of snacks will pop!
Food
Don't skimp here; the award show is long and people get hungry.
You might not be able to get Wolfgang Puck to cater your party but you can still have an impressive spread. The important thing is having menu items that can be eaten in front of the TV.
Updates on classic movie food, like popcorn and candy, are a fun way to work with the movie theme. And finger foods like meatballs, cheese platters, gourmet olives, and dips feel fancy but are quick and affordable to prepare.
Elevate the tone of the night with a signature cocktail. Sticking to one blended drink (preferably one you can prepare ahead of time or that guests can mix themselves) will streamline the drink counter as well as make hosting easier for you.
Last-Minute Option: Microwave a few bags of popcorn (or follow the stove top method; it doesn't take very long) and pair it with a selection of seasonings. Throw some parmesan cheese, Old Bay seasoning, garlic salt, cinnamon sugar, and powdered Ranch seasoning in some cheap salt shakers and soak in the rave reviews!
Heat-and-eat finger foods from the freezer section take zero prep but look like winners on the food table. And for a festive, easy signature drink, set up a champagne bar! A few bottles of sparkling wine (you don't have to spend a lot here) along with a selection of mixers like peach, orange, or pomegranate juice are as impressive as they are easy (and delicious).
Decorate
Every nominee wants to get their hands on that gorgeous gold statuette, so make sure the color gold is featured in your Oscar party decorations. Pair it with red or black for a classy color scheme.
Most party stores will have a wide selection of "Hollywood" themed decorations to create the perfect star-studded atmosphere.
Last-Minute Option: Not everyone has the time to browse the aisles or wait for an Amazon order to arrive. Luckily, you can make your home glitzy without spending too much time (or money). Streamers, curled ribbon, and balloons can look extremely elegant if done right. Dig your Christmas lights out of the attic and string them in the party area(s) for some theater-like mood lighting.
Party Time!
The Academy Awards typically run about three hours long, so your guests will want something to do during the slower moments. (Does anybody actually watch the award for "Best Sound Editing"?)
Make things interesting by providing some non-TV options.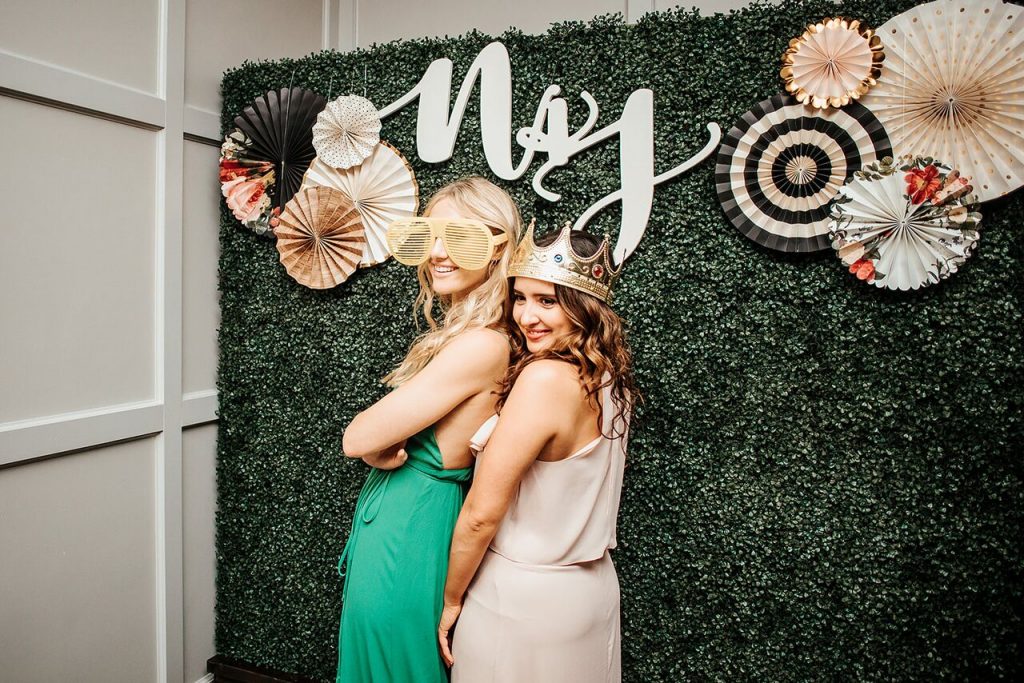 Our Open Air or Digital photo booth will fit perfectly in any home and come with a selection of appropriate props to commemorate your Oscar party. And your guests will really feel like celebrities with our professional photo booth concierge (included with every rental).
Want to take things up a notch? Add our velvet rope to create a VIP section.
Last-Minute Option: Play some Oscars Bingo or trivia with a small prize for the winner. Or make some "prop bets" on the awards show. The internet is full of free printables for just about every subject and you can have them ready in minutes.
Lights, Camera, Action!
You don't have to be nominated or even live in L.A. to get in on the glamour of the Academy Awards.
Setting the tone of the evening with the right outfit, food, and decorations is enough to make your guests feel like celebrities. Top that off with a few fun games (or a photo booth!) and you've got the recipe for the perfect night!
Now go catch up on all those movies from 2018 you didn't get to watch yet.