Here at Photobooth Rocks, we have a variety of amazing booth styles to choose from. They're so awesome, in fact, that it can be hard to decide between them.
Enclosed booth or Open Air? Mirror booth or traditional? Classic or digital?
Each of our photo booth rentals have great features that are worth having at your next big event. In this article, we'll examine the main differences between digital photo booths and Classic photo booths.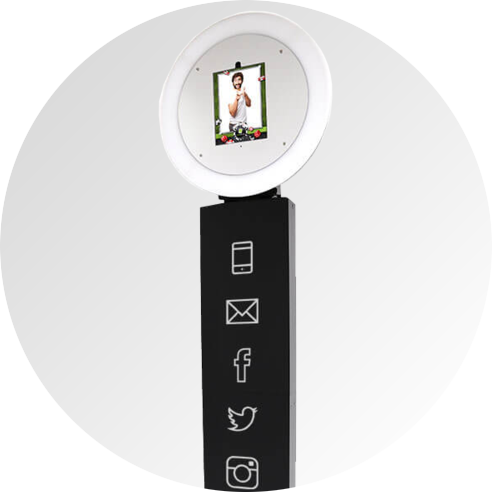 Digital Photo Booth Features
Of course, the main draw of our Digital photo booth is having a digital image to share through text, email, and all of your favorite social media platforms. But there are some other features that aren't available on our Classic photo booth.
Social Media-Ready
Because your super cute selfie is already in digital format, it's ready to be posted, shared, and linked across all of your social media accounts. After your photo booth session, you'll have the option to text or email your pictures to yourself.
And, because we love souvenirs, you still have the option to print out a 4x6 picture (in your choice of layout) to display in your home.
Smaller Footprint
Our Digital photo booth has a super small footprint, so it can fit through the narrowest doorways and not take any space away from the dance floor. You need every available inch when you bust out your best "Thriller" moves!
Only two feet wide at the base and 4.5 feet tall, it's our most petite photo booth yet! (Even smaller than our Open Air version.)
Plenty of Room
Much like our Open Air model, our Digital photo booth holds 6-8 adults and is handicap accessible. That means there's nothing to stop any of your guests from being part of the action!
Plus, you can feature your venue as a background or choose from one of our awesome backdrops.
Boomerangs
Working with a digital format allows for a few more options than a still image. Our Digital photo booth can capture animated boomerangs (a type of GIF that animates forward, then rewinds back) as well as still images.
Coming up with cute photo booth poses is always fun, but imagine how many more options you'll have when you can move!
Classic Photo Booth Features
The classic photo booth has been around for more than a century, so it has a timeless, retro appeal that's hard to resist.
Vintage-style photo booths have come a long way since the 1880's. Today's models are sleek and modern. (But still fun!)
Black & White Photos
Our Classic photo booth is the only one that takes black & white images as well as color. So if you're looking for the ultimate vintage feel, the Classic photo booth is the way to go.
Video Messaging
Only our Classic photo booth has photo and video messaging capabilities, so your guests can leave their best wishes, share a fun memory, sing a goofy song, tell an inside joke...whatever they want!
Having these video clips to watch at your next holiday party or anniversary dinner makes the whole experience worth it!
Personalized Welcome Screen
Greet each guest with a customized welcome screen!
For weddings, include a cute photo with your names and the date. For corporate events, have your company logo front and center. For a bar or bat mitzvah, put up a cute baby photo for all the aunts to coo over.
Classic 2x6 Print
What '80s kid doesn't remember getting photo strips with friends at the mall? With our Classic photo booth, you'll get the traditional 2x6 photo strip you know and love.
Having a physical photo strip means you can enjoy your photos without a device and they won't get buried in your social media feed and forgotten. (Photo strips can't get accidentally deleted.)
Classic Retro Experience
There's something so nostalgic and cozy about stepping inside a photo booth with your friends, family, or spouse and taking photos behind the curtain. Happy couples can share a romantic kiss, shy people can let loose, and friends can act as silly as they want when they're inside a photo booth!
The Best of Both Worlds
Classic and digital photo booths each have their merits. But when you choose a photo booth company offering only digital photos, you lose some of the things that make photo booths so much fun. Why limit yourself to a digital-only photo booth when you can have it all?
Photobooth Rocks' photo booths are the best of both worlds, offering you the classic photo booth experience in a modern and easy-to-use package. Plus, all of our photo booth rentals come with instant prints, setup and breakdown, props, and a professional photo booth attendant.
Contact us today for information on pricing, availability, and more!