"A picture is worth a thousand words…"
Well, if that's true, then a video is worth at least a million!
If you're looking for a way to spice up your next special event with a photo booth rental, try a photo video booth instead!
You've heard about the 360 Photo Booth and the Vogue Photo Booth which give you awesome videos, but now it's time to check out our new video photo booth that combines great videos and photos!
Video booths are more than a fun form of entertainment. They're the perfect way to capture lifelong memories of the most important milestones in your life. From baby showers to weddings and beyond, there are a million ways to use our new video photo booth to ROCK your next event!
What Is Our New Photo Video Booth?
At its core, this photo video booth is the same photo booth you know and love, but reimagined for a new generation.
This sleek, compact model may have a small footprint, but it's packed with enough features to keep partygoers coming back for more all night long.
In addition to making photo prints, this baby memorializes your event with high-definition video in 4K. Enhanced lighting lets you capture crisp videos, GIFs, and boomerangs, while a professional DSLR camera and lab-quality printers churn out photo prints in two sizes—the classic 2x6 photo strip or a frame-ready 4x6 print.
Let's see your iPhone do THAT!
Why It ROCKS!
Yeah, it takes crisp video. Yes, you can share all videos and photos digitally via text, social media, email, or QR code. You can even play around with filters to add a touch of glamour.
But where the photo video booth really stands out is capturing those heartwarming and hilarious moments of your event.
Whether it's a baby shower or a family reunion, get-togethers and special occasions are meant to be shared and—most importantly—remembered. And nothing paints a complete "picture" quite like a video.
Think about the emotions that come from hearing your best friend's laughter or listening to your grandma tell you she's proud of you.
Collecting these beautiful messages is not only fun for an evening. It's also like a virtual scrapbook that gives you memories for a lifetime.
Ways To Use the New Video Photo Booth
No matter what type of event you're hosting, our new video photo booth is the perfect addition for the ultimate in guest entertainment!
Here are a few ways you can use the photo video booth at your next special event.
Weddings
Weddings are such a whirlwind—it can be difficult to talk to everyone in attendance. So, let them talk to you…with a video message!
Friends and family can visit the video booth to share marriage advice, compliment the beautiful ceremony, or simply offer their congratulations.
Afterward, you can watch all the video messages on your honeymoon. But if you can't wait that long, talk to us about adding a Live Gallery to your package for instant viewing!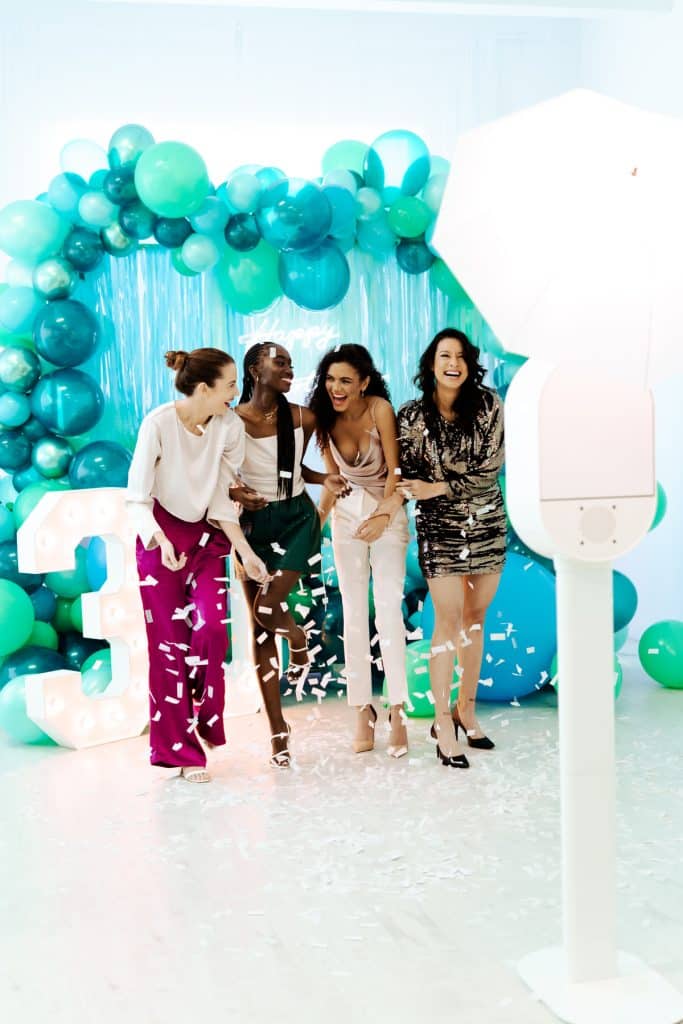 Corporate Events
Videos are pretty much unparalleled when it comes to marketing. Yet it can be expensive (and intimidating!) to hire a camera crew for your next corporate event or trade show. Instead, opt for a video photo booth!
Gather rave reviews at your next trade show. Have employees answer frequently asked questions for your social media channel. Or simply film some silly moments for your company's end-of-the-year recap reel.
Galas and Fundraisers
There's nothing like a great cause to bring people together…well, except maybe a photo booth!
Have attendees share what they love about your organization or record a brief message promoting the cause.
Not only are the clips great marketing material, you can spread the word long after the event by adding your logo to the print or even a custom background. We can even wrap the booth for added visibility. (Hint: it's the perfect sponsorship opportunity!)
School Dances
Some of your best high school memories were at prom and homecoming. But back then, we had to use disposable cameras to capture those memories.
Thankfully, our video photo booth is built for a new age!
Your students can film the latest TikTok dance, create a GIF or Boomerang to share on their social media feed, or share a silly inside joke. Want to take things up a notch? Pair this booth with our Green Screen or Light Tunnel background!
Graduation Parties
There are few occasions more sentimental than graduation. But before you send your baby off to college, why not collect congratulations and well-wishes from the people who love them most?
And if you shed a few tears while reminiscing, we won't judge.
Baby Showers & Gender Reveals
It's always exciting to welcome a new life into the world! With the video photo booth, you can show your new family member how much you care by sharing baby advice for the parents-to-be or making a prediction for the future.
For even more fun, play the video messages at Baby's first birthday or graduation.
Family Reunions
Grandma Frances has been saying she's "writing her memoirs" for a decade. Instead, record her captivating stories with the video booth at your next family reunion.
The whole extended family will love sharing their favorite jokes, memories, and more!
Lights, Camera, Party!
Hosting a special occasion is about much more than having fun for a single evening. It's about making and capturing memories that you can look back on for years to come.
But with a video photo booth, you can do both!
Here at Photobooth Rocks!, we've hosted a lot of events, and trust us when we say that few activities are as popular as visiting a photo booth.
No matter what type of event you're throwing, your guests will always have unlimited photo booth sessions included with your rental fee. We also have a wide selection of props and backdrops to further customize your event.
And if you're looking for even more video options with your photo booth, we've got plenty to choose from! From the 360 Photo Booth to the Vogue Photo Booth, we're taking photo booths up a level!
Contact us today so we can get started planning your event!