Office parties tend to come in two flavors: totally boring or completely, off-the-wall, regret-your-decisions-the-next-day crazy. But there's a middle ground that could use a little representation.
Whether you have 6 employees or 600, here's how to throw an awesome office Christmas party that your employees will love.
Select Party Type
Uh…type? Isn't the type "holiday party?"
Well, yeah, but you can narrow this down a little further.
Do you want to plan a formal sit-down dinner with a fancy dress code or a casual after-hours thing? Perhaps you want to just bring everyone to a restaurant for dinner. Maybe you want to throw the company party to end all company parties. Do you need a host for the evening or should everyone just show up and mingle?
Setting the tone for the party from the get-go will help tune out any distracting ideas (sometimes Pinterest does not make party planning easier!) and refine your vision so that the end result feels cohesive, not chaotic.
Pick a Theme
You don't technically need a theme, but again, this is one of those things that helps narrow down your party planning options.
There are the usual ideas—Winter Wonderland, Rudolph, North Pole—but why not shake things up a bit? Here are a few themes that haven't been played out yet:
Florida Christmas: Living here in Central Florida, we miss out on real winter, so why not lean in and throw a beach themed Christmas party?
Toyland: Parents will agree that Christmas is all about the toys. Set up retro board games, video games, and other throwback toys and have each employee bring in a new, unwrapped toy to donate later on.
Merry Everything: Not everyone celebrates Christmas. In fact, offices are more diverse than ever. Throw a corporate holiday party that includes Hanukkah, Diwali, Kwanzaa, or whatever other holidays your employees celebrate.
Harry Potter: Let's face it, pretty much everyone is a Harry Potter fan. Throw a magical Yule Ball of your own filled with wizarding magic.
Vegas: Hire a casino party rental company to recreate a Vegas casino. It's an excuse to feel like a high roller without the risk of losing your shirt.
Ugly Christmas Sweater: Have they been done before? Maybe. Do people still love them? You bet.
Anti-Christmas Party: Believe it or not, some people aren't that excited about Christmas. (I know, I was shocked, too!) If your employees seem less than enthused about a Christmas party, set up a Festivus pole and just throw a regular party to give your employees a break from hearing "Jingle Bells" on repeat.
Whatever theme you pick, Photobooth Rocks probably has a photo layout or props to match.
Set Your Budget
No one wants to go broke throwing an office Christmas party, but it's so easy to let party planning get out of hand.
Be realistic about your party planning budget (talk to the bosses and the accounting team to settle on a number) so you know what you have to work with.
Create a Guest List
Is the party for all of your employees or just the managers? Can employees bring their families? Should you invite clients as well?
This will largely be determined by your budget, and it will also help you with details later on, such as finding a place that will accommodate everyone and getting an accurate quote from a caterer.
Pick a Venue
Holding your office Christmas party at the office is the obvious answer, but this might not work for everyone.
You might have multiple locations but no single building that will hold everyone. Or maybe you just want a break from the same old walls you stare at every day.
Wherever you host the party, make sure the space will accommodate all of your needs—number of guests, electrical outlets, or space for a photo booth.
Time of Day
Neighborhood and family Christmas parties are typically evening events, which makes it an even better idea to host your holiday party during a less competitive time. (Weekends in December fill up quick!)
Consider a weekday instead of Saturday night, or even an all-day affair where your employees can "play hooky" from work. Maybe your small office would simply prefer to go out to lunch or have a quick potluck in the break room.
Plan Activities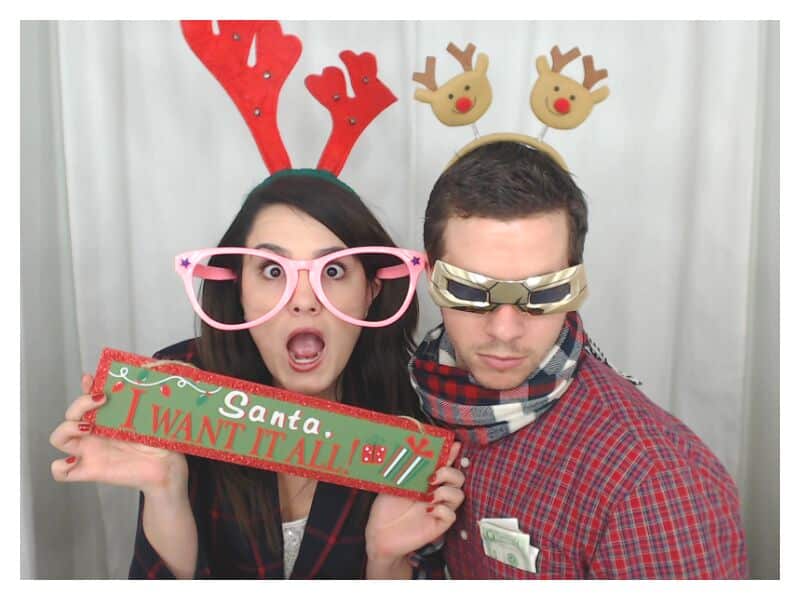 Fun activities are the difference between boring office Christmas parties and unforgettable ones.
Planning something fun is a great ice breaker to get things started and makes for great photo opportunities during the night.
Some great ideas are:
Hot Cocoa Bar: Provide classic and unexpected additions to everyone's favorite Christmas drink. Candy canes, mini marshmallows, caramel sauce, whipped cream, cinnamon, and sprinkles are always appreciated.
Photo Booth: Trust us when we say that everyone loves a photo booth! Themed props and backgrounds help tie your booth in with the theme and unlimited prints for every guest means the fun can continue all night!
Casino Games: Casino night rental companies like Aces Wild can set up a full-fledged casino in whatever venue you choose, so your employees can feel like ballers for a night. The best part? The games are just for fun, so everyone can play without having to worry about losing their life savings.
Karaoke: If your office is full of performers and budding superstars, a karaoke machine will have everyone rocking around the Christmas tree.
Decorate a Cookie Station: Set out plain cookies (sugar cookies or gingerbread men work best) with everything you'll need to turn them into masterpieces, like icing, small candies, and sprinkles.
Trivia: Hire a local trivia company to organize a Christmas-themed trivia game and provide prizes for the winners.
Plan the Menu
Remember when we said that planning the type of party, theme, and budget were gonna help with the details later? This is what we meant.
Hosting a formal sit-down dinner will have a different menu than a casual get-together with just finger food. Buffets are an affordable way to give everyone a full meal and potlucks create a cozy, familiar vibe.
You can also consider professional caterers, ordering something in from a local deli (or Publix!), or hiring some food trucks to bring their wares (like an open bar, but with food).
Hire Vendors
Now is the time to compare your venue to your theme and activities to make sure you have everything you need. You might need to rent some chairs, hire a DJ or professional MC, set up some props or lighting, or hire a photographer to capture candid moments.
But there are also some vendor options that will help make the event more enjoyable for everyone. Babysitters and children's entertainment allow employees to let loose without having to arrange a sitter for the evening. A company like Kids Nite Out will even plan activities for the little ones to do so they won't feel like they're missing out on all the fun.
Give Back
The holiday season puts people in a giving mood, and your office Christmas party can help contribute to that.
Giving something back to your employees lets them feel appreciated for all their hard work during the last year and gets them motivated to start the next year off strong. This could be as extravagant as a hand-picked gift for each person or as simple as a gift card to Starbucks.
A budget-friendly option would be recognizing your employees with a little awards ceremony. Categories can range from "Top Performer" to "Makes the Best Coffee."
You can also use your corporate holiday party to give back to the community. Collect toys, non-perishable foods, or socks (they're the #1 most-requested item at homeless shelters) as the price of admission or use the party to draw attention to a cause that's close to your company's values.
Conclusion
Your employees are sick of White Elephant gift exchanges and sad cookie exchanges. Follow these steps and your office Christmas party will be totally lit.
Take the time to plan an entertaining, interactive event that everyone will remember for years to come (mostly because they'll have the photo strip) and your team will be motivated to keep delivering through 2019.