The best way to ensure your party or event is unforgettable is to have plenty of photographic evidence of it. While we're all walking around with high-quality digital cameras in our pockets all day, cell phones aren't a match for the fun photos you get from the latest digital photo booth technology.
And there's no booth as fun or extraordinary as the 360 Photo Booth Experience. The 360 photo booth takes the standard photo booth to the next level, allowing for more fun, more individuality, and unlimited sessions.
So what is it exactly that makes the Photobooth Rocks 360 photo booth a wholly different and unique experience? Read on to find out!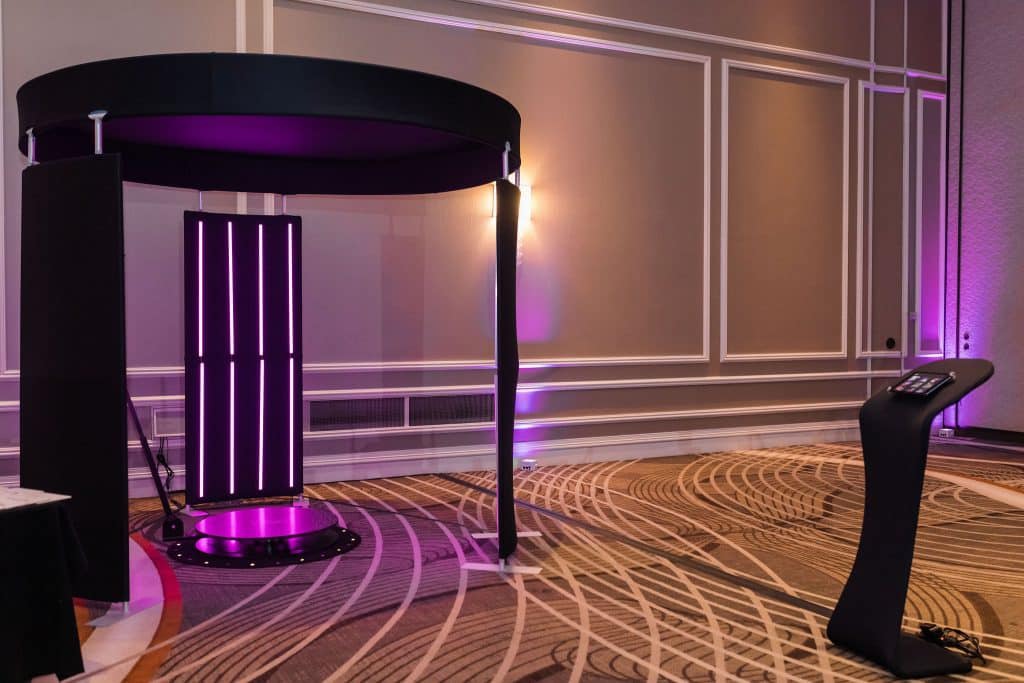 What Is a 360 Photo Booth?
The 360 photo booth is the latest craze in photo booth technology. While the standard booth with props and costumes is awesome fun, the 360 booth is an immersive video experience that puts you right in the center of the action.
The Photobooth Rocks 360 photo booth features a reinforced platform and hi-def camera that takes a 360-degree video of you from all angles, complete with spotlighting. You can add your favorite music to your videos, have fun with props, utilize slow motion, and add even more customizations to make the 360 booth a completely unique experience!
The booth features a mechanical arm that holds the camera and spins around you while you're busy having fun and striking poses. You can also adjust the camera's height and the video's speed.
While the main point of the booth is clearly the videos, you can get screenshots and photo stills from your session as well.
The best part about the 360 photo booth? Everyone can have unlimited digital copies of their videos when the fun is over, making long-lasting memories that are easy to instantly share on social media.
The 360 Booth Is Perfect for Any Event
No one can resist a photo booth, and a 360 photo booth will keep people coming back again and again.
What makes the 360 photo booth perfect for every occasion is how easily customizable it is.
As with any booth rental, you can choose from a wide selection of props that fit your aesthetic and event theme. Additionally, the video feature of the 360 booths gives your guests more opportunities to be creative and express themselves than the standard photo booth.
You can customize the 360 experience with a branded backdrop and a select soundtrack. Because the 360 photo booth is a raised platform in an open air setting, your guests will not have to worry about squeezing to get in the frame.
Whether your company is attending a major trade show in the near future or you want some truly special entertainment for your wedding, a 360 photo booth rental is something you can make your own. It is perfect for all occasions!
The 360 Photo Booth Is High-Tech But Easy to Use
It might look imposing, but the 360 photo booth doesn't require any specialized training to use.
As the star of the show, you're in complete control of your video. Our photo booth attendant will adjust the height of the arm and speed of the video to best fit you, so all you need to worry about is striking a pose.
And when you're done, sending your videos right to your phone for quick and easy sharing on your favorite social media platform is easy.
Plus, you'll have a Photobooth Rocks representative there to set up the booth, organize props, and assist you throughout your rental.
The 360 photo booth is so user-friendly that no one can resist a second trip—and thanks to Photobooth Rocks' unlimited-visit policy, they won't have to!
Let Photobooth Rocks Make Your Event Unforgettable
At Photobooth Rocks, we're in the business of making your event—no matter the theme or size—truly one of a kind, and we don't settle for anything less than the best.
From custom props and branding to a full-time attendant included with each rental, we provide you with spectacular entertainment and unforgettable photos and videos. Plus, we have plenty of other ideas to make the most out of your rental.
Whether you're interested in trying one of our newer booth styles, like the 360 photo booth or the Vogue Photo Booth, or you're not sure what fits your event best, contact us to discuss all your options.
We're the top photo booth company in Orlando and travel across Florida to make each and every event stunning and memorable.