Prom is a highly anticipated night in the life of a high school student! There's a reason why so many memorable movies take place at prom. Congratulations on being entrusted with the task of selecting this year's prom theme!
With so many options, it can be challenging to choose a prom theme, but if you're looking for prom inspiration, you've come to the right place. Once you choose the prom theme, it's easier to get started on prom decorations ideas, prom entertainment (like a prom photo booth!), and more.
Check out the bonus prom planning tips at the end of this article after you've gotten some prom ideas. Prom planning has just gotten a whole lot easier!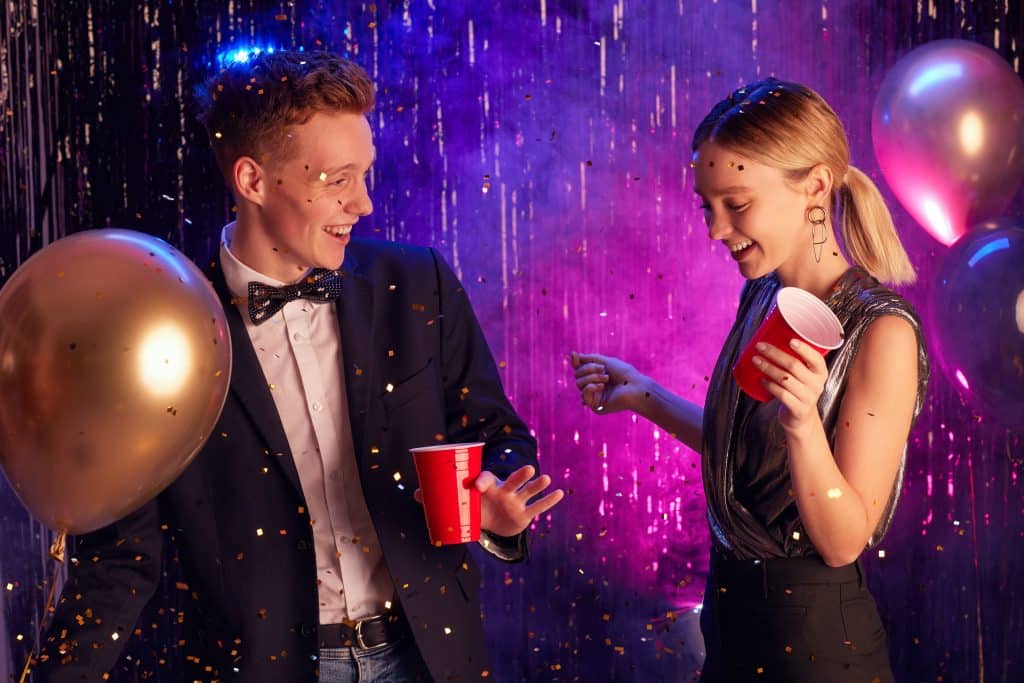 Unique Prom Themes
Here are some unique prom ideas that everyone in the school will enjoy.
1. Hollywood Stars
The Hollywood Stars prom theme is perfect for a glamorous night out!
For décor, think red carpets, starry lights, and Oscar statuettes. Use a red carpet to lead up to the dance floor and string white lights around the room for your decorations. Gold stars and Oscar statuettes make incredible table decorations. You can even hang a Hollywood sign up as a photo backdrop!
For an elevated prom experience, the Vogue Photo Booth or Glam Photo Booth can capture everyone's sleek celeb look!
2. Around the World
This theme incorporates decorations and themes from different cultures. For example, you could use Japanese lanterns, Chinese lanterns, and Indian saris as part of your decorations. You could also use a world map as a backdrop and have different food stations around the room, representing different cuisines from other countries.
3. The Enchanted Forest
The Enchanted Forest prom theme is perfect for a high school prom because it's a place where you can let your imagination run wild.
You can add fairy lights and lanterns to create a magical atmosphere. Our Faux Vine Backdrop would perfectly match this theme's vibe!
4. A Distant Galaxy
The Galaxy prom theme is a popular choice among high school students, especially sci-fi fans!
For an out-of-this-world prom, decorate the space with stars, planets, and other space-related items. You can hang stars from the ceiling, put planets in the corners, and use string lights to create a twinkling effect.
If you want to get really creative, you can create a black light effect by hanging black sheets around the room's perimeter and using black light bulbs.
5. A Night In Greece
Looking for an amazing and elegant theme for prom? Picture beautiful décor inspired by Greek culture, delicious food, and entertainment that would transport you to the Mediterranean. This would be a night that you and your friends will never forget!
6. On Cloud Nine
On Cloud Nine is a sky-high theme that will have everyone feeling like they're on top of the world.
To decorate, you can hang clouds from the ceiling and use a blue and white color scheme. Silver stars can be sprinkled throughout the room to add a touch of magic. For a "party vibe," our CO2 Blasters will fit the theme and get the party started in a big way!
This will be a night to remember, so take lots of pictures!
7. Comic Books
A Comic Book theme is a fun and special way to celebrate your favorite characters. Whether you're a fan of Marvel or DC, there are plenty of ways to show your fandom with this unique prom theme.
Decorate the venue with posters and memorabilia from your favorite comics and dress the staff as superheroes. Our Green Screen Photo Booth is a great way to let your guests immerse themselves in the theme and make lasting memories!
No matter how you celebrate, this prom theme will surely be a hit with all the comic book fans in your school.
8. 1950s Sock Hop
Step back in time and have a fun, unique prom experience. This theme is about creating an old-fashioned sock hop complete with vintage décor, classic menu items, and, of course, a jukebox.
To add to the fun, guests can dress in their best 1950s-inspired attire.
9. Dripping In Luxury
This theme is perfect if you want to go all out for your high school prom!
To capture the luxurious feel, go for decadent decorations like black and gold streamers, glittery tablecloths, and chandeliers. A white, black, and gold color scheme would be perfect. For an extra touch of glamour, have your venue's staff dress in tuxedos and gowns.
For an aesthetically pleasing photo booth to add to your luxury prom, look at our Mirror Photo Booth!
10. An Evening In Paris
If you're looking to bring the City of Love to your high school prom, an "Evening in Paris" theme is perfect! Decorate the venue with classic Parisian landmarks like the Eiffel Tower and Arc de Triomphe. Don't forget to add string lights and candles.
11. Hawaiian Paradise
A Hawaiian Paradise prom is a chance to let loose and have fun with your friends while also enjoying the beauty of Hawaii.
This prom will be filled with tropical flowers, palm trees, and the sound of the waves crashing on the shore. You can wear your best Hawaiian shirt or dress and dance the night away to the sounds of the island.
12. A Safari Adventure
A Safari Adventure-themed prom would be a unique and exciting way to enjoy the evening. Use props such as trees, bushes, and vines to decorate. You could also use animal print tablecloths and centerpieces.
13. The Wizard of Oz
Transport you and your classmates to the Emerald City! Decorations could include a giant Emerald City backdrop, green and silver streamers, and glittery green balloons. You could even have students take pictures with a Wicked Witch of the West cutout!
Our Open Air photo booth lets guests take home memories with high-quality, instantly developed photos!
14. That 70s Prom
The 70s were a decade of big hair, disco balls, and bright colors. To capture the decade's feel, a DJ could play disco music throughout the evening.
For a high school prom with a 70s theme, hang disco balls from the ceiling, have plenty of streamers and balloons, and tables with tall and dramatic centerpieces. Forget the classic color palette of mustard yellow, and avocado green. Instead, think "disco" and incorporate plenty of silver, blue, and pink.
Prom Planning Tips
The best way to choose a memorable prom theme is to select one unique and personal to your school. This way, you can be sure that your prom will be unforgettable!
First, consider the atmosphere you want to create. Do you want it to be formal or relaxed? Is it romantic or wild? Once you've decided on a general atmosphere, start brainstorming specific themes that would fit that atmosphere.
For example, if you want a formal prom, themes such as "A Night at the Oscars" or "Masquerade Ball" could be considered.
Once you've come up with a few ideas, start narrowing them down by considering things like your school's colors, mascot, and location. For example, if your school is near the beach, a "Summer Luau" theme might be a good prom idea!
Finally, consider how you can personalize a theme once you've decided on it. What decorations, food, and music will you need to make your prom truly one-of-a-kind? You can throw a prom that everyone will remember for years with some planning and creativity!
Rock Your Prom
Consider what kinds of activities you want to have at prom. Would you like a dance floor? Games? What about photo booths? Your theme should allow for all the fun you want to have.
Photo Booth Rocks has various backdrops and photo booths available to suit your school's style and budget—we even have group-style photo booths for up to ten people! Connect with us to get this party started!